Careers Related to Athletic Training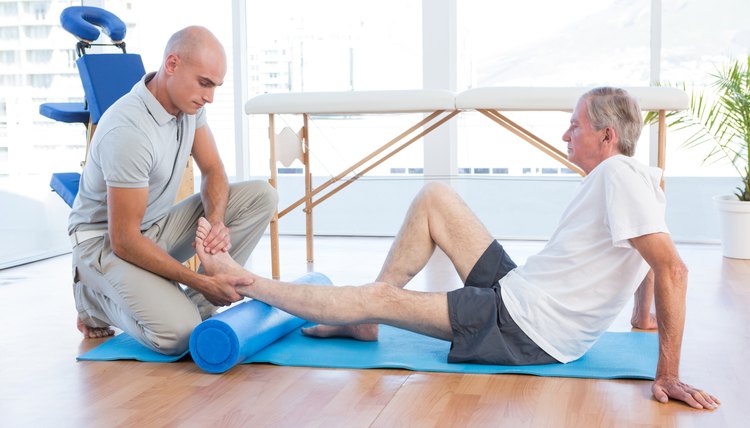 When you have a love for sports and teaching others to stay fit, a career in athletic training may be the right course for you. Athletic training is ideal for those who love to play sports without planning a career in playing professionally. As an athletic trainer, you'll typically have a background in exercise science, exercise physiology and personal training, and can choose from any number of promising careers to suit your tastes and talents.
School Sports Coach
When you have certification and an educational background in athletic training, you can become a coach for any number of sports teams at a high school. The Mayo School of Heath Sciences notes that some schools require at least one athletic trainer on staff to help with coaching and injury prevention. If you have your teaching certification, you can also teach at the same school where you coach for even more career opportunities.
Sports Medicine
As an athletic trainer, you'll have learned about exercise physiology, injury prevention and rehabilitation, making you an ideal fit for rehabilitation clinics and sports medicine. There, you'll work with chiropractors and physical therapists to help injured athletes get back on their feet and avoid injury in the future. You'll also be able to work with other medical professionals in developing care plans for all of your patients, including rehabilitative exercises and stretching, the training process and adding stabilizers to injuries for better performance.
Professional Sports Trainer
As a proficient and educated athletic trainer, you may even be hired by professional sports teams in order to work with the players to help them improve. Athletic trainers can work as coaches or coordinators with the team, work on drills and practices, and prevent and isolate injuries. Athletic trainers are also sometimes hired privately by professional athletes to help them work on their game outside of the organization, which means you could be working alongside professional players and administration for some of your favorite pro teams.
Fitness Educator
Athletic trainers are often hired to work alongside licensed physicians, notes the US Bureau of Labor Statistics. A physician may hire an athletic trainer if he notices many fitness-related injuries. An athletic trainer is then able to talk to patients about the right kind of exercise, how to use equipment properly, while helping to create personalized exercise and fitness plans for different individuals, based upon their needs and past health issues. An athletic trainer becomes an integral part of the medical team in helping treat and prevent sports-related injuries.
References
Writer Bio
Kay Ireland specializes in health, fitness and lifestyle topics. She is a support worker in the neonatal intensive care and antepartum units of her local hospital and recently became a certified group fitness instructor.