How to Get a Rodeo Sponsor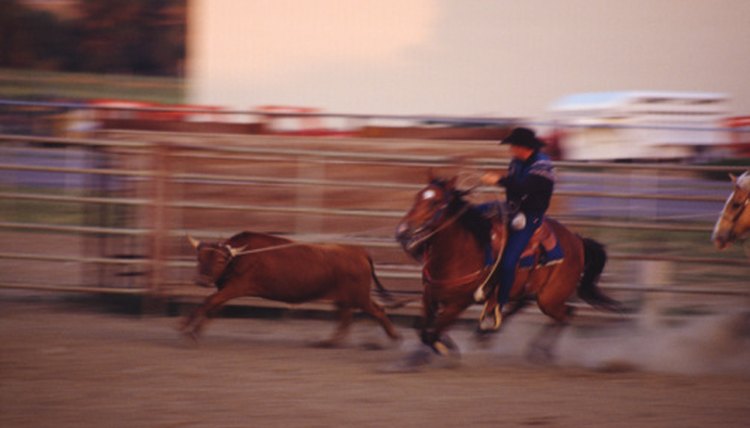 To the aspiring rodeo star, having to work a full-time job between competitions is an annoying and time-consuming distraction. Although amateur competitions have cash prizes, it is generally insufficient to cover the costs of travel, food and lodging. To enter professional rodeos, aspiring competitors must pay an annual fee to the Professional Rodeo Cowboys Association. The fee is refundable if the competitor doesn't win enough money during the year to equal it. To be competitive in the professional rodeo circuit, a cowboy needs sponsors -- individuals and business that underwrite the expenses of travelling the regional circuit and possibly going to the National Finals.
Participate in amateur competitions as much as possible. Assemble a scrapbook or set up a web page to document your performance and winnings. Include commentary from peers and judges.
Honestly evaluate your skill at your chosen event, such as bronco busting, calf roping or bull riding, and study your competition in the PRCA. Seek the opinions of peers with regard to your strengths and weaknesses. PRCA membership is an investment that may or may not pay off. Make it only after you have estimated the odds to be in your favor.
Solicit support from local businesses and professionals first. Letters, phone calls and personal visits are all acceptable, but some offices are busier than others. Show respect by sending a letter with copies of your news clippings, followed by a telephone call a week later. Pay a personal call on the potential sponsor after an additional week.
Locate additional prospects from businesses that advertise in national magazines that celebrate the American West, such as Cowboys and Indians, The American Cowboy and Native Peoples. As these enterprises are more far-flung, you can replace the personal visit with email solicitations. Attach scanned or online reports of your past successes.
Approach a talent agency if your record is impressive. Your ranking in the PCRA is based on your winnings. As you move up in the rankings, an agency will find you a more attractive investment. The agency, in turn, will market you to larger corporate sponsors.
Tips
The PRCA is not the only professional rodeo organization, but it is the dominant group for multievent cowboys and carries the largest purses. If you want to focus on bull riding, the Professional Bull Riders organization provides even larger cash prizes. The Indian Rodeo Cowboy Association serves those who wish to compete among Native Americans, and the Women's Professional Rodeo Association is the competitive group for barrel racing.
References
Writer Bio
John Gregory has worked in the publishing and financial industries for over 20 years. He began writing for newsletters and marketing campaigns in 2003 and has since collaborated on pieces for Mortgage News and Mortgage Originator. He holds a bachelor's degree in geography from the William Paterson University of New Jersey.