ProForm 500i Treadmill Specifications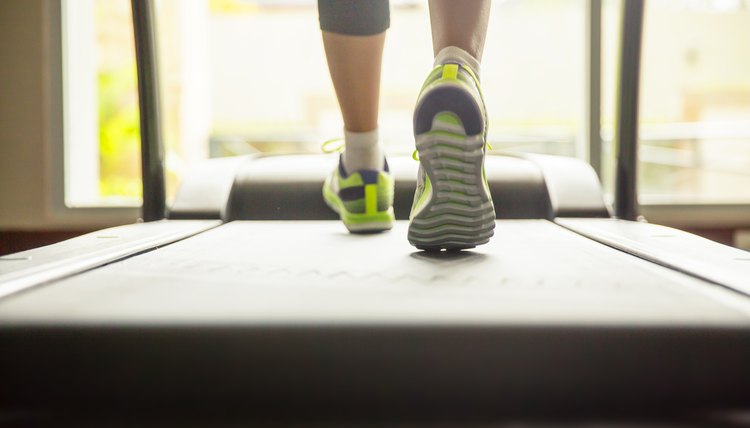 The 500i treadmill was manufactured in 2005 by Icon Health and Fitness, which produces the ProForm brand, as well as NordicTrack, Weslo and other popular fitness equipment brands. The 500i is a motorized treadmill for in-home use. It features the ProForm SpaceSaver design, iFit technology and a selection of preset workout programs.
Specifications
The ProForm 500i has a 2.5 horsepower motor. It can handle speeds from 0 to 10 mph. You can adjust the automatic incline ramp up to a 10 percent grade, in 0.5 percent increments. The user weight capacity for the 500i is 275 pounds.
Size
The 500i treadmill weighs 215 pounds. The walking belt measures 53 inches long and 17 inches wide. To fold the treadmill for storage, ProForm advises that you should be able to lift at least 45 pounds. Lift the walking deck until it meets the console. A storage latch secures the unit in an upright position. Roll the 500i on its front wheels to a convenient storage area.
Features
The LCD console features 10 quick speed buttons. Press a button to automatically change the speed of the belt. The 500i offers four built-in workouts -- two distance workouts and two speed and incline workouts. Choose one of these programs and the treadmill will automatically adjust the speed and incline settings for you throughout the workout. The calorie goal program allows you to enter a caloric goal and a maximum speed setting. The treadmill runs the program until you meet the calorie goal.
iFit Technology
To use iFit, connect the 500i treadmill to your computer, CD player or stereo. Purchase iFit CDs separately. When you play a CD, a virtual personal trainer guides you through a complete workout, while the treadmill adjusts the speed and incline settings for you. Connect the 500i to your computer and download more programs directly from the iFit.com website.
Maintenance
The ProForm 500i treadmill belt was pre-lubricated at the factory. ProForm recommends checking the belt tension regularly. Lift the middle of one side of the walking belt. It should raise 3 to 4 inches off the platform. The 500i includes an Allen wrench and instructions for adjusting the belt. ProForm also suggests regularly checking the nuts and bolts on the treadmill to make sure they are tight.
Writer Bio
Based in Austin, Texas, Jolie Johnson has been in the fitness industry for over 12 years and has been writing fitness-related articles since 2008 for various websites. She received her Bachelor of Arts in English and philosophy from the University of Illinois.