Swimming With Dolphins in Tampa, Florida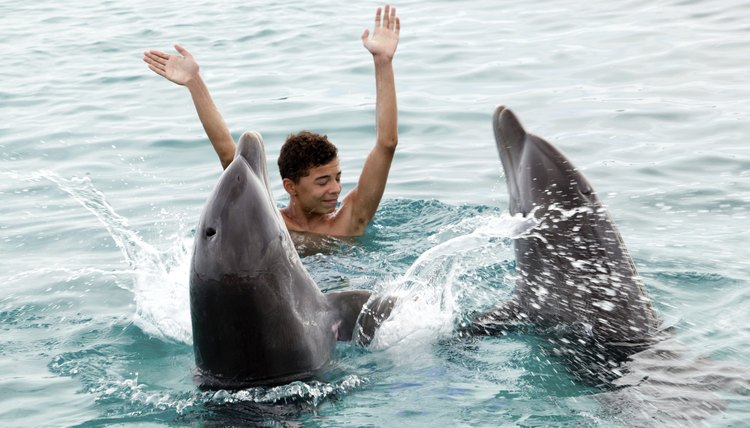 Visit the Tampa Bay area in Florida and befriend a dolphin with interactions such as rubs, kisses and hugs. Facilities in the surrounding area allow you to experience swimming with dolphins and learning about their behaviors and natural habitat. According to the Official Florida Tourism Website, the alligator and the dolphin are two of the most popular animals associated with the state. Do not miss a chance to swim with the dolphins when visiting the Sunshine State.
Geography
As the largest city in Hillsborough County, Tampa is also one of the most populous city in the state, according to the City of Tampa Official Website. The city is on the west coast of Florida about 20 miles northeast of St. Petersburg and 25 miles east of Clearwater. Attractions and activities in the surrounding area includes swimming with dolphins and various other water sports.
Facilities
Visit Discovery Cove in Orlando and Dolphins Plus in Key Largo to experience swimming with dolphins. Discovery Cove is the nearest facility in Tampa where you can swim with dolphins, just 1.5-hour drive eastbound. Dolphins Plus is another option, especially if Discovery Cove is fully booked. Though five hours away from Tampa, Dolphins Plus is a worthwhile trip as various options and programs to interact with dolphins are available to guests.
Features
Discovery Cove offers a dolphin swim-day resort package that includes unlimited admission to Aquatica, SeaWorld Orlando or Busch Gardens Tampa. This package not only allows you to swim with dolphins but also to get the most out of your vacation. Wade into the dolphin lagoon and come face to face with the bottlenose dolphin as you swim along under the guidance and supervision of a trainer. Expect to get into shallow and deeper waters for interactions such as hugs, rubdowns and kisses with the dolphin.
Time Frame
Discovery Cove in Orlando offers a 30-minute interactive adventure with bottlenose dolphins while the Dolphins Plus in Key Largo offers a two hour session that includes an educational briefing for 45 minutes. Experience snorkeling and interacting with dolphins by signing up for the natural dolphin swim session where you will enter the water with a mask, set of fins and snorkel. This session simulates swimming with dolphins in the wild, according to Dolphins Plus.
Restrictions
Discovery Cove requires children to be at least 6 years old to swim with dolphins. Those from 6 to 12 must be accompanied by an adult who is also participating in the session. Dolphins Plus guests must be at least 7 years of age to participate and all participants 7 to 12 must be with a participating guardian age 18 years and above.
References
Writer Bio
Rona Aquino began writing professionally in 2008. As an avid marathon runner and outdoor enthusiast, she writes on topics of running, fitness and outdoor recreation for various publications. Aquino holds a Bachelor of Arts in communications and English from the University of Maryland College Park.