Is Fluidity Bar a Good Exercise?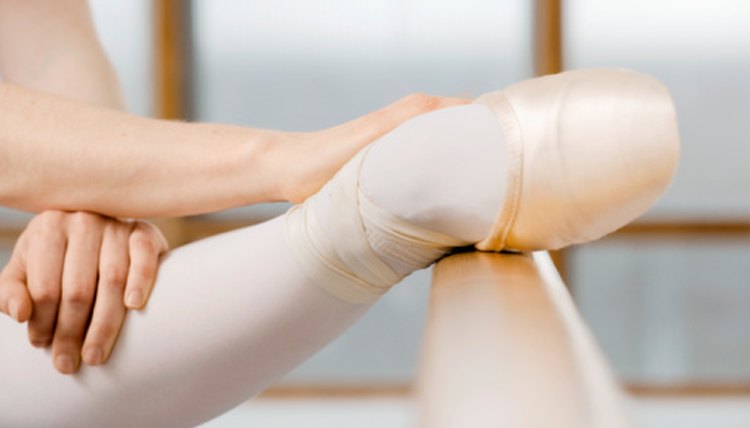 With its ballet-inspired moves that challenge the entire body, the Fluidity Bar workout claims to "work your body in a way no other workout can," according to the Fluidity website. Utilizing a portable ballet bar, the workout system allows users to transform their home into a dance studio. Although results vary from one person to another, the Fluidity Bar promises to be a good exercise and full-body workout.
Identification
The Fluidity Bar is a standalone fitness unit that features a wooden ballet bar and cushioned mat supported by stable beams. The unit is sold with an inflatable ball, resistance bands and a Fluidity Bar training video with three workout levels. The Fluidity Bar workout utilizes ballet-inspired moves to transform the body. In fact, the Fluidity website claims that just two 30-minute Fluidity Bar workouts per week can "transform your body into the long lean lines and irresistible curves of a dancer's."
Specifications
With a height range of 26 to 39 inches, the bar can be adjusted to match your needs and level of flexibility. For best results, the bar should be positioned approximately 2 inches below your hip bone. The cushioned mat has a length of approximately 76 inches long when fully extended. When not in use, the Fluidity Bar can be folded down to just 4 inches tall. The entire unit weights approximately 55 lbs. and can support up to 300 lbs.
Overall Workout
The Fluidity Bar workout video uses whole-body movements to help you develop lean muscle mass. According to the Fluidity website, the overall goal of the Fluidity Bar workout is to integrate various muscles with each move. Rather than isolating each muscle group separately, multiple muscle groups are worked simultaneously. When the entire body is involved in each move, the body can simultaneously burn fat while building and toning muscles. The innovative system allows for physical results in a short amount of time. Ultimately, the workout is a combination of strength-training, ballet and flexibility moves. The Fluidity Bar does not provide a cardiovascular workout.
Specific Benefits
The Fluidity website claims that the variety of moves included in the workout video will effectively tone and tighten nearly all areas of the body. In fact, the website claims that the Fluidity Bar "will flatten your stomach, slim the front of your thighs, develop muscle tone on the back of your legs, eliminate the love handles, lift and tighten your seat and improve your posture and flexibility."
Considerations
Before beginning the Fluidity Bar workout, consult your physician for an evaluation of your current health and fitness status. The ballet-inspired workout may not be recommended for those with disorders of the ankle, knee or hip joints. As with any workout program, the creators of the Fluidity Bar cannot guarantee success. To achieve positive results with the Fluidity Bar workout, you should aim to follow a healthy diet and stick to the workout video as closely as possible. Supplemental cardiovascular exercise may be necessary to burn fat or lose weight.
References
Writer Bio
Krista Sheehan is a registered nurse and professional writer. She works in a neonatal intensive care unit (NICU) and her previous nursing experience includes geriatrics, pulmonary disorders and home health care. Her professional writing works focus mainly on the subjects of physical health, fitness, nutrition and positive lifestyle changes.