The Best Jock Straps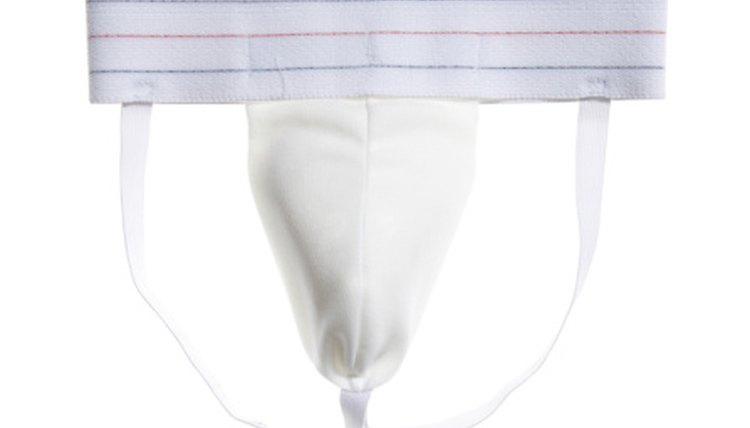 The jock strap – commonly referred to as an athletic supporter – is designed to provide safety and support for males while participating in physical activities and athletics. Through the years, jock straps have been developed with new designs, materials and features, but the best jock straps provide flexible, soft materials that wick moisture and sweat along with containing various features, such as a pocket for an optional protective cup.
Materials
While the first jock straps were made from cotton, the best jock straps are made with a variety of synthetic materials. Common material blends include polyester, nylon and spandex. Under Armour, for example, has a jock strap made from 81 percent polyester and 19 percent elastane.
Benefits
These materials are high-performance technical fabrics that wick moisture and sweat away from your body during physical activities along with stretching for a snug, comfortable fit. Other top jock straps will have antimicrobial fibers to reduce odor during extended practice sessions when sweat can accumulate in the fibers.
Features
Common features for jock straps include a front pouch connected to two leg straps that wrap around to a waistband. The best jock straps feature a 2- to 3-inch waistband that allows it to be worn under football pads or other athletic equipment. The leg straps are generally about 1-inch in width to provide support with chafing the top of the thighs. Also, seamless fabric construction reduces "hotspots" that can also provide chafing.
Considerations
The best jock straps may vary according to different sports. As a result, consider your individual sport while choosing a jock strap. The best jock strap for swimming, for example, has a narrow waistband while hockey players may want adjustable elastic straps. Also, an accessory pocket for an optional protective cup is useful for athletes participating in sports such as football or baseball.
References
Writer Bio
Based in Nebraska, Jeremy Hoefs began writing fitness, nutrition, outdoor and hunting articles in 2006. His articles have been published in "Star City Sports," "Hunting Fitness Magazine" and RutWear field journals, as well as on the Western Whitetail website. Hoefs graduated with a Bachelor of Science in exercise science from Nebraska Wesleyan University.