Proform Vs. Gold's Gym Treadmills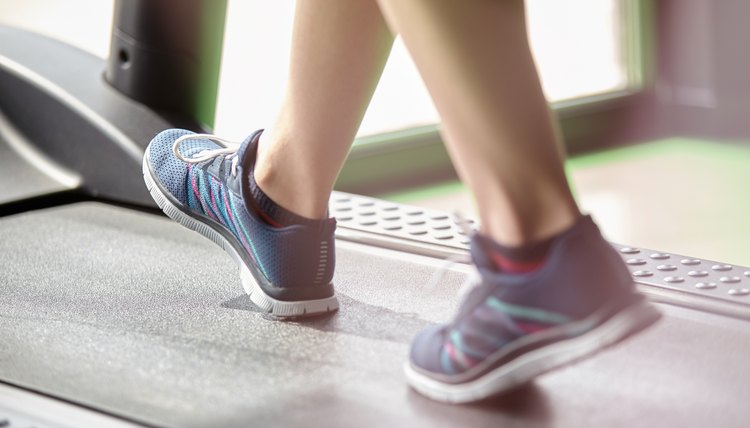 Proform and Gold's Gym both offer a large selection of treadmills with various amenities. However, it is important when comparing treadmills to consider the following four factors. The first is the kind of motor it has, the second is its incline and speed capabilities, the third is price and size, and the fourth is special features. A home treadmill must be durable, and the motor determines its power and longevity. The incline and speed capabilities will determine the quality and intensity of your workout experience. The price and size determine whether it will fit in your home and budget -- and the special features may tip the scales with bonuses such as built-in workouts and app capabilities.
Motor
Treadmill motors are categorized by horse power. The best motors run on continuous duty power, or CHP. A CHP motor is the highest quality available. The higher the CHP, the stronger the motor. Proform treadmills have a minimum of 2.5 CHP, but average at 3.5 CHP. Many of their treadmills boast a Commerical Pro Motor, which runs quieter than many treadmills motors. Gold's Gym uses motors that are on average 3.0HP. Not all of their treadmills offer CHP, and the ones that do tend to be 2.0 CHP. Thus, Gold's Gym's motors are less powerful than Proform. If you are planning on doing intense home workouts or are heavier, a higher quality motor will help extend the life of your treadmill.
Incline and Speed
Incline and speed capabilities are important in a treadmill, as they determine the intensity of your workout. If you incline a treadmill, you do not need to speed up in order to increase the value of the exercise. An incline also allows you to work different muscles in the feet, ankles and legs. Many Proform treadmills incline up to 15 percent, as well as decline for downhill running. Gold's Gym offers treadmills that incline up to 10 percent, although they do not decline. Both brands offer treadmills that reach speeds of 15 mph.
Price and Size
Proform treadmills are more expensive than Gold's Gym. Proform's cheapest treadmill that they currently offer is $800, at the time of publication. You can find Proform treadmills through other retailers for as low as $500. Gold's Gym offers treadmills as low as $300, at the time of publication. Both brands offer a variety of sizes that fold up to accommodate smaller space. However, Gold's Gym treadmills tend to be slightly smaller.
Other Features
Proform offers many features, such as iFit compatible apps, workout apps, built in workouts, heart rate monitors, suspension cushioning, and marathon training. Their treadmills tend to hold more weight than the Gold's Gym treadmills, as well. Proform offers many models that hold up to 400 pounds. Gold's Gym treadmills have features such as built-in workouts, iPod compatible speakers, workout apps, iFit apps, airstride cushioning, and free weights. Their treadmills typically hold up to 300 pounds.
References
Writer Bio
Elizabeth Gray has been writing since the age of five, but professionally since the age of 21. Her current writing gigs include article writing for Studio Anya, and playwriting for the Manhattan Repertory Theatre.