True Treadmill 540 Specs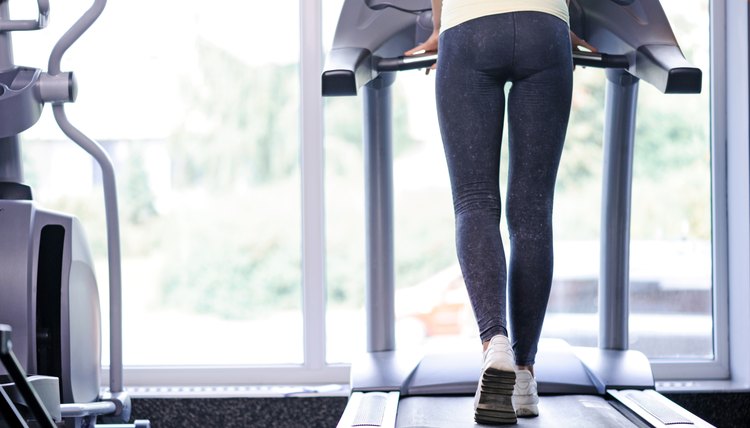 True Fitness has been operating for over 29 years and caters to the professional and residential exerciser alike. The discontinued True 540 series, continues to sell on eBay. The 540 series models -- 540P, 540OP, 540HRC, 540HRCO and 540CI -- are high-end, home treadmills with an array of features. All five models have the same specifications and design, but they have different programming options and belt features.
Design
The True 540 series model treadmills are black with some color accents on the console. They have a 3.0 hp continuous-duty motor that supports speeds up to 10 mph. The power incline ramp has a range between zero and 15 percent. The 540OP, 540HRCO and the 540CI feature a thick, cushioned orthopedic running belt.
Specifications
All five True 540 model treadmills have the same dimensions. They are 70 inches long, 29 inches wide and weigh 255 lbs., except for the 540CI, which weighs a little more at 262 lbs. These treadmills can handle user weights of up to 400 lbs. The running area is 54 inches long by 22 inches wide. The 540CI model features the S.O.F.T. Select technology, which allows you to control the stiffness of the deck by pressing a button on the console.
Features
The Treadmill True 540 treadmills have a magnetic key and lanyard as a safety feature. The safety key inserts into the console and the lanyard attaches to your clothes. If you lose your balance or fall behind, the lanyard pulls the safety key out of the console and the belt turns off. The dot matrix screen displays characters in three colors. The console provides immediate feedback about your workout, including the distance, grade, elapsed time, speed, pace, approximate calories burned and METS, a measurement of expended energy.
Programs
All five 540 model treadmills have four preset workouts and three customizable programs. The 540HRC, 540HRCO and the 540CI feature allow you to set your target heart rate, maximum speed, maximum grade and workout duration. The 540HRC, 540HRCO and the 540CI also include two interval programs that adjust the exercise intensity based on your target heart rate. You enter your target heart rate, maximum speed and grade, workout length and the duration of work and rest intervals. The treadmill adjusts the workout incline and speed to keep your heart rate in the target zone, while meeting your workout parameters.
References
Writer Bio
Based in Austin, Texas, Jolie Johnson has been in the fitness industry for over 12 years and has been writing fitness-related articles since 2008 for various websites. She received her Bachelor of Arts in English and philosophy from the University of Illinois.