Orbitrek Elite Elliptical Exercise Machine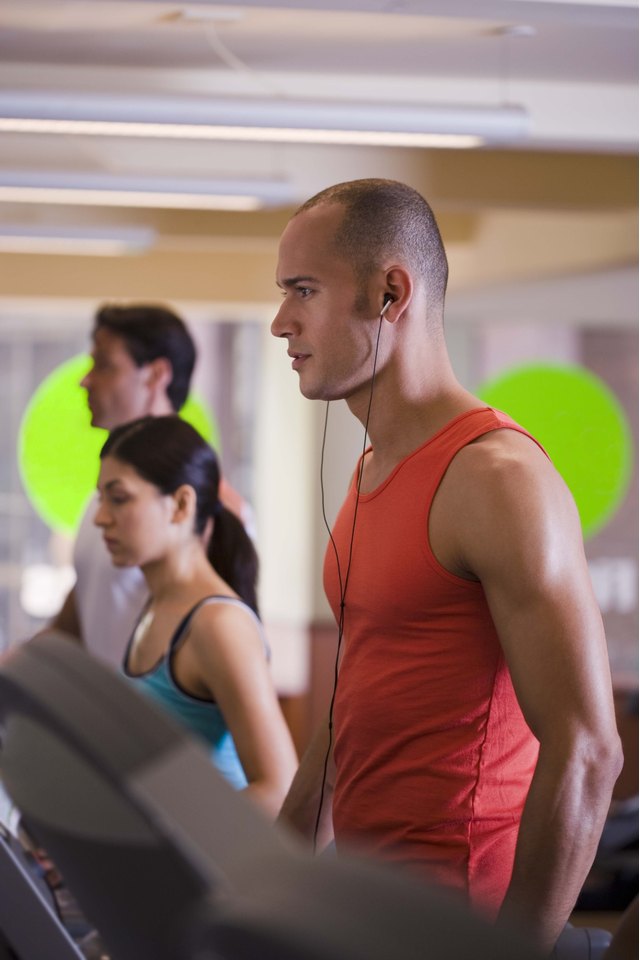 Thane Fitness makes the Orbitrek Elite Elliptical, marketed on infomercials. Thane recalled this product in 2009 due to an incorrectly placed spring washer. If you own this elliptical, fix the spring washer before using it to avoid potentially falling from the machine if the connections loosen and make the machine unstable.
Features
The Orbitrek Elite Elliptical includes handgrips along with the pedals to work both upper- and lower-body muscles. With the "Turn N Burn" resistance system and the weighted flywheel, you can add up to 100 lbs. of resistance. The exercise computer helps you track the performance of your workout so you can vary the intensity.
Use
Stand on one side of the bike and grip the handlebars to mount the elliptical. Place one foot on each pedal. Pedal either forward or backward; pedaling forward works the quadriceps while pedaling backwards works the hamstrings. Incorporate the arm movement by moving your arms back and forth while gripping the handlebars. Use the exercise computer to track time completed, speed and distance traveled.
Warnings
Users must not weight more than 275 lbs. to prevent damage to the elliptical. If you experience dizziness, chest pain, nausea or physical pain, stop exercising immediately and consult with your physician. Position the elliptical on a level surface away from water. Check nuts and bolts before using; tighten if necessary.
Recall
Thane Fitness provided new assembly instructions to owners of the Orbitrek Elite at the time of the recall to correctly install the spring washer. Stop using the machine if you have not installed the spring washer correctly. If you did not receive new assembly instructions, contact the Orbitrek Elite Recall Hotline at 888-863-4003.
Writer Bio
Sommer Leigh has produced home, garden, family and health content since 1997 for such nationally known publications as "Better Homes and Gardens," "Ladies' Home Journal," "Midwest Living," "Healthy Kids" and "American Baby." Leigh also owns a Web-consulting business and writes for several Internet publications. She has a Bachelor of Science in information technology and Web management from the University of Phoenix.