Personal Training at the YMCA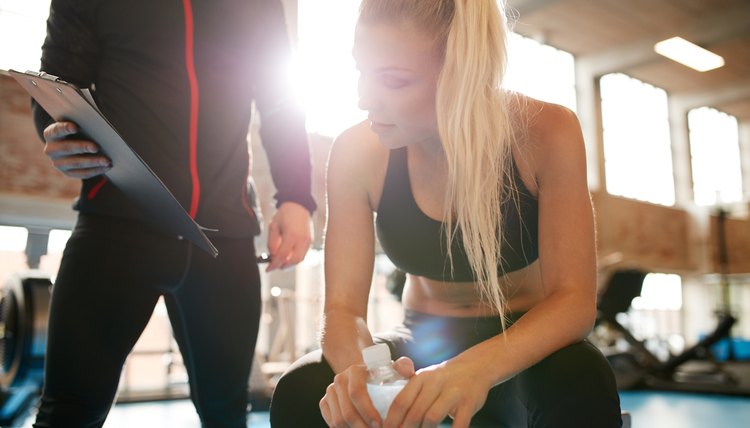 As part of its mission to promote healthy living and make positive impacts on communities, the YMCA has 2,700 facilities across the country. At the YMCA health clubs you can work out on your own, or hire a personal trainer to help you. Members of the Y receive reduced pricing on personal training, making it more affordable to get individualized attention and excellent results.
Benefits
Hiring a personal trainer from the YMCA will help you remain motivated and disciplined with your exercise regimen. A trainer will hold you accountable to complete your exercise sessions — both when you are working with your trainer and when you are working out alone. During your sessions, you will likely be pushed to work harder than if you were exercising alone.
To prevent injury and get results, the personal trainer will make sure that you're completing each exercise using correct technique and at the appropriate intensity. If you have particular goals you want to accomplish, such as losing weight, getting stronger or building muscle, a YMCA trainer can design a program to help you achieve those goals.
Price
Prices for personal training vary by location, but YMCA members will receive a discounted price at all YMCAs. At the time of publication, the YMCA in downtown Durham, N.C., charges $57 for a single session with a personal trainer. If you buy more than one session at a time, the per-session price is lower. At the Durham Y, members can buy a package of 10 sessions for $481.40.
Many YMCAs also offer group personal training packages. You and a group of friends can work out together and split the cost of your personal training sessions, making them cheaper for all of you. At the Durham YMCA, a single session of partner training for up to four people costs $39 per person.
Qualifications
The qualifications of YMCA trainers may vary between locations, but according to the YMCA website, all trainers are required to have CPR, AED and first aid training.
They prefer to hire trainers who hold certifications from accredited fitness organizations such as the American Council on Exercise, Athletics and Fitness Association of America or the American College of Sports Medicine. Some trainers may have advanced certifications or degrees in exercise science or a related field.
Programming
Your personal trainer at the YMCA will begin by questioning you about your health and fitness goals and by performing a fitness assessment. A fitness assessment may include body fat testing, and tests to measure your endurance, strength and flexibility. Once your trainer has your baseline information and what you'd like to improve, she will develop a personalized training program.
References
Writer Bio
Kim Nunley has been screenwriting and working as an online health and fitness writer since 2005. She's had multiple short screenplays produced and her feature scripts have placed at the Austin Film Festival. Prior to writing full-time, she worked as a strength coach, athletic coach and college instructor. She holds a master's degree in kinesiology from California State University, Fullerton.