The Best Treadmill Companies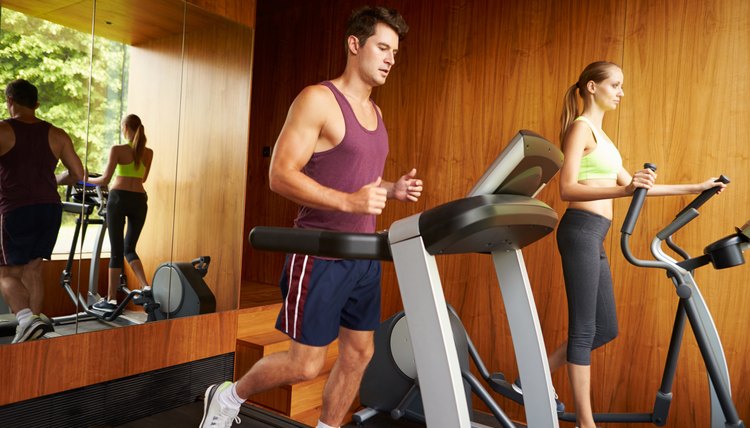 Home-use treadmill manufacturers have a pretty tall order to fill. They're trying to package the performance and power of a gym treadmill in a relatively small, light and portable model that can fit through your doorways and up your stairs. Although most treadmill companies produce a range of models, they tend to occupy and excel in one of three price and quality niches: Heavy-duty, mid-range and low-end.
Heavy-Duty Treadmills
The Landice and Precor brands both make frequent appearances in gym and rehabilitative settings. They're built to withstand frequent, repeated use and heavy users, with weight limits of up to 500 pounds. Both brands offer relatively few bells and whistles, so don't expect dozens of workouts of tablet interfaces. Instead, Landice and Precor deliver high-end construction and functional features, like negative incline, capacious running decks and powerful motors. True Fitness also produces heavy-duty treadmills, with major power, heavy-duty components and reliable, quiet operation. The downside for all three brands, however, is a hefty price tag -- multiple thousands of dollars -- to match huge, heavy machines that usually do not fold for movement or storage.
Mid-Range Models
Smooth Fitness and Sole Fitness both produce treadmills that crop up reliably in the expert "Best Buy" lists. They offer all the features experts recommend -- including quality components, plenty of power, reliable performance and a lot of space to walk or run -- all at a relatively decent price. These treadmills are usually a little smaller and lighter than the heavy-duty models. Some even fold up, which makes them much easier to move around.
Mid-Range to Low-End Treadmills
NordicTrack and ProForm are both operated under the umbrella of the massive fitness equipment company ICON Health & Fitness, so there's really not much of a difference between the two brands. ICON used to be notorious for packing its treadmills full of fancy features like dozens of workouts, built-in cooling fans and interactive iFit capability, but manufacturing quality was only so-so. Today, the many attractive features remain but construction has improved, with numerous NordicTrack and ProForm models receiving "Best Buy" and "Runner Up" recommendations from TreadmillDoctor.com.
The Very Low-End Models
Unfortunately, the very low-end treadmills you see selling for just a couple of hundred dollars aren't going to make any best-of lists. Manufacturers manage to keep prices very low by skimping on parts, quality and manufacturing precision. Their warranties are usually woefully short, too. You'd be much better off buying a higher-quality treadmill used.