Qualifications of a High School Basketball Coach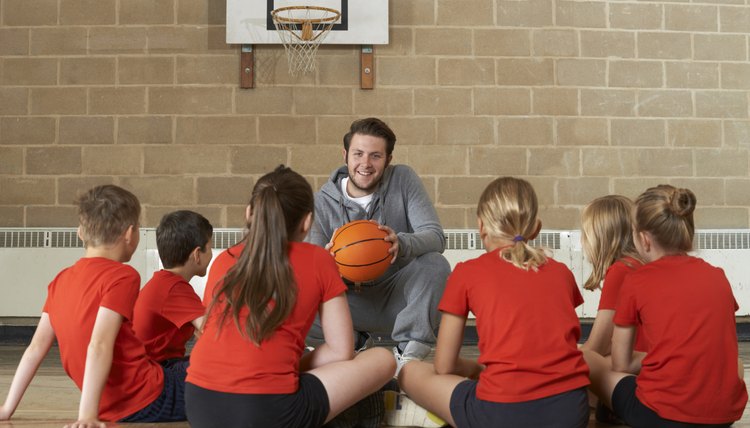 It will require slightly more than a love for the game to become an accredited high school basketball coach. Each state in the United States has different individual requirements, but most states are similar in their general qualifications. Additionally, there are volunteer positions in local districts that require less rigid licensing.
General Requirements
School systems will typically require a basketball coach to be an accredited teacher, which involves a bachelor's degree concentrating in teaching, as well as the standard background checks and licensing exams. Above and beyond the teaching certification, specific states may require a coach certification.
Getting Specific
Many things are required beyond a teaching and coaching license, though. Each district and state is different, but many states will require CPR certification, first aid certification, basketball-specific training and a myriad of courses developed specifically for the high school basketball coach. For example, in New York State, 36 specific courses are required before one can coach. It is advisable to check the requirements for your specific state.
Do it For the Kids
Most volunteer positions for coaching will not require a bachelor's degree or special licensing. Because of the close interaction with youths, a criminal background check will most likely still need to be conducted. It is a good idea to join an association such as the National Youth Sports Coaches Association, which involves membership procedures.
Outlook and Salary
According to the Bureau of Labor Statistics, the outlook for employment for high school basketball coaches as of 2013 is well above average, with a 29 percent growth expected in upcoming years. The median salary for a high school basketball coach is $800 to $3,000 per year, but this is in addition to any teaching salary at their school of choice.
References
Resources
Writer Bio
Dori Pinkerton is a writer based in New Haven, Conn. Her articles have appeared in the "Lancaster New Era" newspaper. Pinkerton is currently attending Yale University, as well as pursuing her Bachelor of Science in nursing at Southern Connecticut State University, with concentrations in psychology and German.