About BMX Rhino Bikes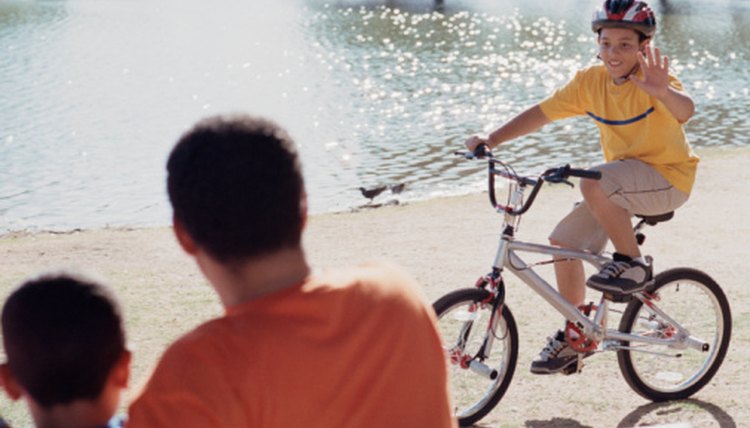 The Rhino company specializes in BMX bikes for riders of all ages and skill levels. The bikes from Rhino have been designed to adapt to the various types of riding terrains, including asphalt and dirt. In the past Rhino was a popular brand for children's bikes, but the brand is not currently making new bikes. However, if you pick up a used BMX rhino bike, it is useful to know details about its features.
About Rhino
The Rhino BMX bike has standard features on each of its bike models. According to Rhino, the Y-shaped frame of the BMX models features a rigid construction. The hollow frame helps to decrease the overall weight of the bike. Metallic paint colors add extra flair to the frame of the Rhino BMX. The wheels of the Rhino BMX bike range in size from 10 to 26 inches. The 26-inch wheel remains the standard size for full-size BMX riders.
Big Bite
The Big Bite remains one of the smallest models offered by the Rhino BMX company. According to Rhino, the Big Bite remains ideal for young boys ages 3 to 5. The Big Bite features 12-inch wheels as well as a sturdy frame constructed of steel. The silver frame of the Big Bite has been accented with metallic blue graphics. For extra stability, the Big Bite comes equipped with a set of training wheels.
Overdrive
The Overdrive model from Rhino is for BMX riders ages 4 to 8. For added safety, the Overdrive comes equipped with a hand-brake system. The Overdrive features 16-inch wheels and a water-bottle holder. The neon yellow frame of the Overdrive BMX has been accented with metallic blue graphics. According to Rhino, the Overdrive features a handlebar shield that gives the bike a racing style.
Troublemaker
For more advanced BMX riders, Rhino offered the Troublemaker model. The Troublemaker features an enlarged frame that corresponds with the body size of riders age 8 and up. The 20-inch wheels and knobby tires of the Troublemaker can adapt to an off-road riding terrain. The red frame of the Troublemaker has been accented with silver graphics. The Troublemaker features a chain guard as well as a water-bottle holder. The padded handlebars will keep the younger rider safe during freestyle tricks.
References
Resources
Writer Bio
Philip Foster has been writing professionally since 2010. His work has been featured in the literary-arts magazine "The PEEL" and the weekly newspaper "The Mountain Xpress." Foster is an expert in various extreme sports. He cooked in a restaurant that offered organic and vegetarian cuisine for over three years. Foster received a Bachelor of Arts in creative writing from Appalachian State University.