Cannondale R400 Bicycle Specifications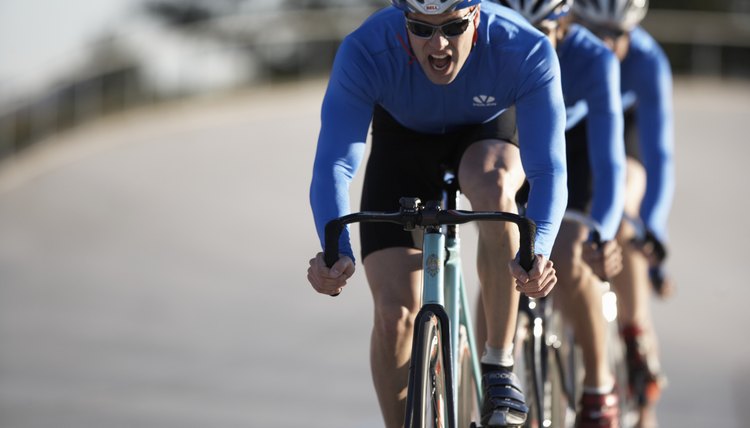 Cannondale manufactured the R400 bicycle from 2000 to 2004, and it came in two models -- the Double was only available in Europe and the Triple was not available in Europe. Most Americans who know the R400 know the Triple instead of the Double. New, the bike cost about $780, and used R400s are selling for even more now that Cannondale no longer produces them.
Basics
The Cannondale R400 is a road bike, available in 48-, 50-, 54-, 56-, 58-, 60- and 63-cm sizes. The original factory paint job is blue or yellow and black with a white Cannondale logo. The original sale price was considered mid-range at the time, but the price has not fallen very much for good-condition used models, with mint condition models selling for even more. Bike restorers may still find hard-ridden models around at a lower price.
Frame
The frame is 6061 T6 aluminum, tungsten gas-welded to keep the weight low by eliminating filler metal. The fork is a unicrown aluminum Cannondale Slice Si, with no rear shock. The profile follows the thick, hollow-tube look popularized by early versions of this very bike, with the larger downtube.
Wheels
The R400 came from the factory with 700 by 23c Hutchinson Flash tires on Mavic Mach 1 CFX 32-hole rims. The hubs were Shimano 3300s with DT stainless steel 15-gauge straight-gauge spokes with brass nipples. Most models now on the market have had the wheels replaced due to hard use or preference for new technology, and original wheels are a determining factor in the pricing of used models.
Components
The brakes were Cannondale's own Delta brakes with Shimano Sora STI levers. Shimano also contributed the derailleurs -- the FD 2203 in the front, the Sora GS in the back. The crankset was the Truvativ Touro A1 with 30/42/52 teeth with a half-inch by 3/32-inch chain and eight-speed, 12-26 teeth cogs. The pedals were Wellgo, with straps and clips. The Selle Royale Viper saddle was held up by an aluminum micro-adjust post, and the Cinelli Altera handlebars were mounted on Cannondale's own #-D forged stem. The headset was a 1 1/8-inch threadless Cane Creek S-2.
References
Writer Bio
Angela Brady has been writing since 1997. Currently transitioning to a research career in oncolytic virology, she has won awards for her work related to genomics, proteomics, and biotechnology. She is also an authority on sustainable design, having studied, practiced and written extensively on the subject.