What does fact checked mean?
At SportsRec, we strive to deliver objective content that is accurate and up-to-date. Our team periodically reviews articles in order to ensure content quality. The sources cited below consist of evidence from peer-reviewed journals, prominent medical organizations, academic associations, and government data.
The information contained on this site is for informational purposes only, and should not be used as a substitute for the advice of a professional health care provider. Please check with the appropriate physician regarding health questions and concerns. Although we strive to deliver accurate and up-to-date information, no guarantee to that effect is made.
Latissimus Dorsi Isometric Exercises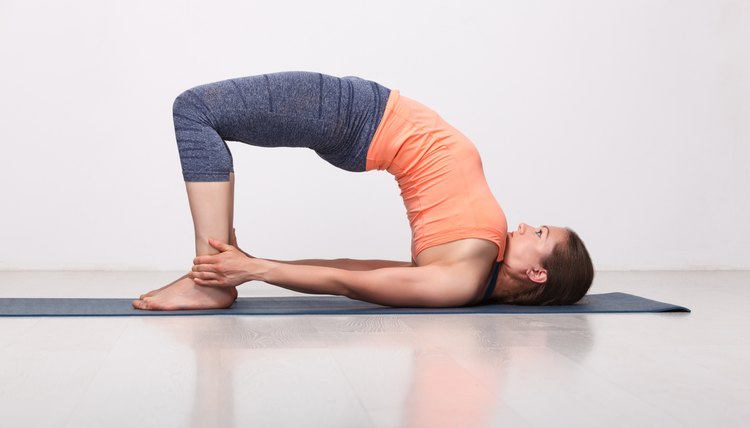 Your latissimus dorsi muscle is the largest muscle in your back. This extensor muscle is responsible for many types of common movements, including pushing yourself up when sitting in a chair. If you'd like a stronger, healthier back, certain isometric exercises can help to strengthen this muscle and promote a more toned, firm appearance. Always consult your doctor before performing these exercises, particularly if you have, or are recovering from, an injury.
Bridge Pose
The bridge pose is a common yoga pose that isometrically exercises the latissimus dorsi and strengthens your entire back. To perform a variation of the bridge pose, lie on your back with your knees bent and your heels as close to your buttocks as possible. Place your arms by your sides, palms facing down. As you inhale, lift your hips off the ground by pressing into the floor with your heels and palms, focusing on tightening your back muscles. Hold the pose for 30 seconds, then lower your hips to the floor and relax for a few moments. Repeat five times.
Isometric Press-up
The isometric press-up can strengthen the latissimus dorsi and the pectoralis major, or your chest muscles, according to authors William D. Bandy and Barbara Sanders in their book, "Therapeutic Exercise for Physical Therapist Assistants." To perform this exercise, sit on a stable surface, such as a sturdy table. Press your arms into the table and lift your hips off of the table. Hold this position for three to five seconds, then release. Perform 10 repetitions of this exercise.
Superman
The superman is an isometric exercise that can strengthen not only your latissimus dorsi, but your entire back. To perform this exercise, lie on your stomach with your legs straight and your arms flat on the floor above your head, palms facing down. Inhale and lift your arms and shoulders off the floor, contracting your back muscles. Hold this pose for 30 seconds, then slowly release.
Isometric Stretch
The isometric stretch for the latissimus dorsi can help to stretch and lengthen the entire torso, according to authors Robert E. McAtee and Jeff Charland in their book, "Facilitated Stretching." Sit in a chair and reach one arm over your head and bend it, pulling down on your elbow with the opposite hand. Hold this stretch for several seconds, then repeat on the opposite side.
References
Writer Bio
Ashley Miller is a licensed social worker, psychotherapist, certified Reiki practitioner, yoga enthusiast and aromatherapist. She has also worked as an employee assistance program counselor and a substance-abuse professional. Miller holds a Master of Social Work and has extensive training in mental health diagnosis, as well as child and adolescent psychotherapy. She also has a bachelor's degree in music.