High School Soccer Tryout Drills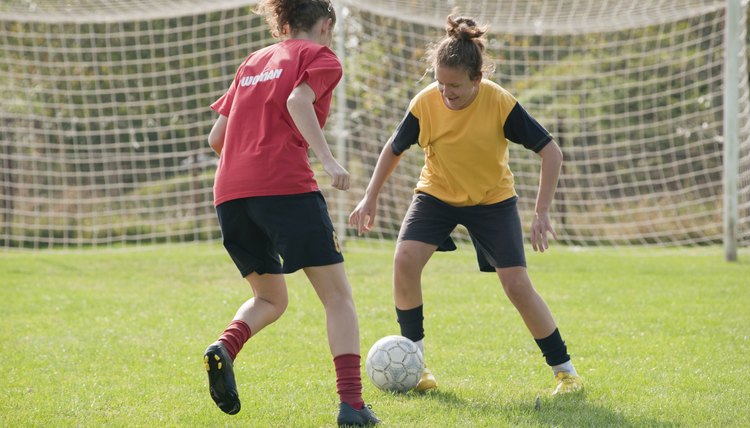 High school soccer coaches looking to recruit for their team roster face some unique challenges. At tryouts, they face students of different playing abilities, skill levels, competitive experiences and, as an added challenge, an age group from 13 to 18. Coaches want to make sure they accept younger as well as older players to ensure the team has a future. Effective tryout drills cut across age categories to test for ballhandling, dribbling, passing, shooting and tackling skills, as well as game sense and general athleticism. Because these players will represent their school, coaches should also consider recruits who demonstrate team spirit, maturity and sportsmanship.
On the Ball
While some of the more simple soccer skills, such as passing, can be learned, players with excellent ball control will help the team maintain possession. Give each player a ball and instruct him to juggle the ball in the air, dribble around in a contained area and receive passes in the air from a partner. Note those players who control the ball in a relaxed, confident and firm manner. Players who act nervously with the ball, let the ball ricochet off them uncontrollably and let the ball get far away from them while dribbling will have little to contribute to the team. Remember, you're not looking for fancy foot skills, just simple ball control, which players of any age should be able to master.
Passing and Positioning
Look for players who pass and include other members of the team. Although you may observe some older, more experienced players making lots of breakaways and taking charge of the field, consider who is sending them on those breakaways, supporting them when they are under pressure and coming back to defend. To find out the players' strengths on the field, organize set plays where players assume their favorite positions and attack or defend the net, such as a set corner kick. Set up passing games within a small area to gauge which players rely on their teammates.
Team Play
Because the ages on your team will vary, recruiting players who can work well with all ages is necessary. Look for senior players who take leadership in a non-condescending way and make an effort to include young, shy freshmen. Note younger players eager to follow instructions and respect those with more authority and experience. Divide players into small teams of four to five players and instruct them to decide on their own positioning and game strategy. Observe how the players take leadership, listen and make decisions together, both before the drill starts and during the exercise.
Bringing it All Together
Nothing proves what a player can do like a full-field soccer scrimmage. Complicated, unfamiliar drills can be confusing to some players and cause younger players to feel intimidated, but on the soccer pitch everyone's true abilities shine. Ask each player which position he prefers to play so that everyone gets an opportunity to perform in their comfort zone. During a scrimmage you can observe players' ball skills, shooting and passing skills and teamwork abilities. Experiment with switching lines around to see if any players magically click when playing beside each other and to determine if they are more comfortable playing offense or defense.
References
Resources
Writer Bio
Nadine Smith has been writing since 2010. She teaches college writing and ESL courses and has several years experience tutoring all ages in English, ESL and literature. Nadine holds a Master of Arts in English language and literature from McMaster University in Ontario, Canada, where she led seminars as a teaching assistant.