Dunlop D407 Vs. Dunlop American Elite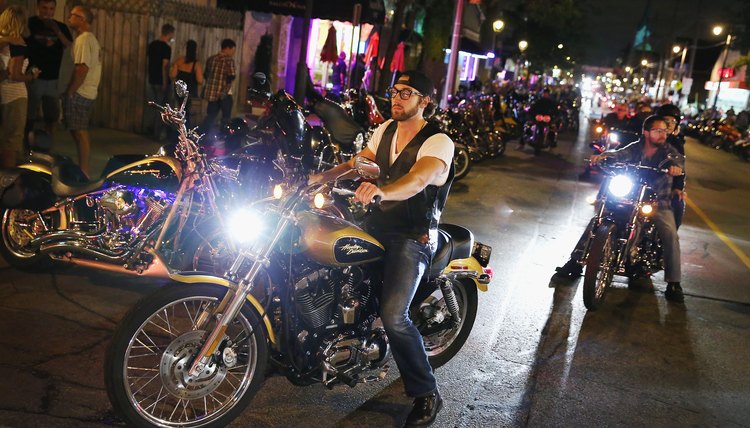 Dunlop tires have been used exclusively on all Harley-Davidson motorcycles since 1984. The tire manufacturer's D407 and American Elite series are part of the family of tires used for a number of Harley-Davidson bikes, including the Street Glide Classic and Screamin' Eagle. While both tires feature distinct Dunlop tire technology, the D407 is made available in more sizes, making it a better option for customizing motorcycles.
D407
Designed for 2009 FL touring models, the Dunlop D407 tire is made from a reinforced multi-layer tire carcass that provides increased strength and promotes tire life. The rear tire features MT Multi-Tread technology by Dunlop.
The technology boosts traction control and stability during braking through a durable tread compound positioned in the tire's center.
The sides incorporate lateral-grip compounds to improve traction while leaning during cornering. Angled grooves line up laterally in the tire's tread pattern to dissipate water from wet roads.
American Elite
All Harley Davidson touring bikes can be fitted with the Dunlop American Elite tire. The tire's distinct tread design encourages even wear and smooth riding on all types of road conditions. American Elite tires, like the D407 model, are manufactured with Dunlop's MT Multi-Tread technology that aims to improve grip and feel. They also feature lateral-grip compounds for cornering.
Features
Both models feature Dunlop's Multi Tread Compound technology one the rear tires. One feature of the technology enables the tire to run cooler along the long-wearing compound, which results in better traction and stability. This feature also aims to prolong the life of the tire. Dunlop partnered with Harley Davidson to test the technology in computer simulations, labs and on roads.
Differences between the two tire models include width and diameter. The D407 rear tire ranges in width from 6.67 to 9.35 cm, while the American Elite is only available in a 7.19 cm width size. Rear tire diameter options for the D407 range from 25.22 to 26.18 cm, while the American Elite is only available in a 25.33 cm diameter size.
Sizes
The Dunlop D407 is made in more sizes than the American Elite model. The D407 is available as a 130/80B17 front and as a 180/65B16 rear, designed for the Harley Davidson Electra Glide Standard, Street Glide Classic and Ultra Classic Electra Glide.
Dunlop also makes a 130/70B18 front and a 180/55B18 rear for the Harley Davidson Screamin' Eagle Road Glide, Screamin' Eagle and Softail Springer.
Finally, the D407 sizes for FL Touring Models include for the front 130/90B16, 130/80B17 and 130/70B18, and for the rear 180/65B16 and 180/55B18. The Dunlop American Elite is available only in sizes 130/80B17 and 180/65B16.
References
Writer Bio
Dan Harriman began writing professionally in 2009 and has a varied background in marketing, ranging from sports management to music promotion. Harriman holds a Bachelor of Science in journalism with an emphasis on strategic communications from the University of Kansas and earned the International Advertising Association's diploma in marketing communications.