Females in Athletic Training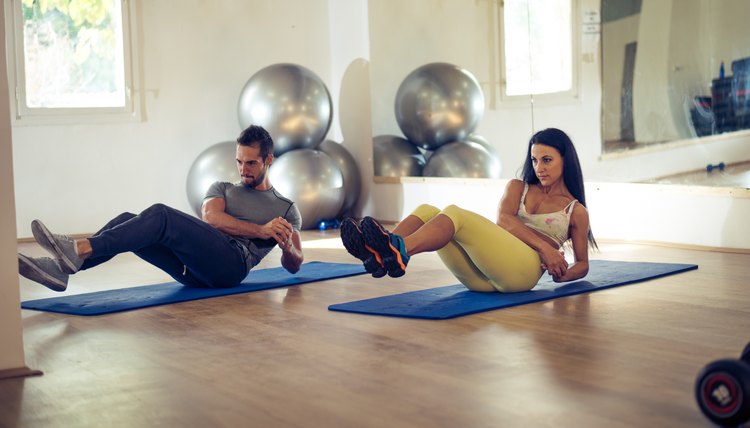 Athletic trainers play a vital role in sports at all levels, from youth athletics to the pros, and more and more of them are women. From administering first aid to implementing rehab programs for injuries, athletic trainers are health care professionals who are indispensable to any team or individual athlete. But despite making up nearly half of all certified athletic trainers, female trainers still face challenges of discrimination and disrespect among male athletes.
Role of Athletic Trainers
Athletic trainers are not the same as personal fitness trainers, explains the National Athletic Trainers' Association, or NATA. They do not develop training programs or prescribe exercises. A Certified Athletic Trainer, or ATC, is a health care provider trained to prevent, diagnose, treat and rehabilitate injuries. ATCs work with physicians and other health care professionals, and can be found in a variety of work scenarios, including schools, colleges, professional sports, clinics, hospitals, corporations, industry, military and in the performing arts.
Women and Athletic Training
Founded in 1950, the National Athletic Trainer's Association is a professional association for athletic trainers whose members number more than 35,000, nearly half of whom are women. For the first two decades after its inception, NATA was primarily a boys' club, until the first female trainer passed her board certification examination in 1972. Four years later, in 1976, the first female trainer joined the U.S. Olympic medical staff. In the 1990s, NATA developed a task force to address the subject of professional female trainers. In 2000, NATA elected its first female president.
Female Trainers and Pro Sports
Despite the increased number of female ATCs, they are disproportionately underrepresented in professional sports, according to certified athletic trainer Katie Boushie. In 2002, the NFL hired a woman as an assistant athletic trainer, and the NBA employs two female assistant athletic trainers. Female trainers have had better luck in women's pro sports, making up 70 percent of WNBA ATCs. In 2011, the Los Angeles Dodgers made the bold move of naming veteran trainer Sue Falsone as the first female head athletic trainer to a professional men's sports team. But female ATCs face gender hurdles as they strive to work in professional sports. A study of male collegiate football players published in the "Journal of Athletic Training" found that the athletes preferred a male trainer over a female trainer for treatment of both general and sex-specific injuries. The same athletes expressed a preference for a female trainer to treat depression.
Athletic Trainer Qualifications
If you are interested in a career as an ATC, you must satisfy academic qualifications and pass a comprehensive test administered by NATA's Board of Certification. You must obtain a bachelor's or master's degree from an accredited athletic training program and, once certified, you must continue to meet continuing education requirements in order to remain certified. More than 70 percent of ATCs hold a master's degree, according to NATA.
References
Writer Bio
Michelle Matte is an accomplished fitness professional who holds certifications in personal training, pilates, yoga, group exercise and senior fitness. She has developed curricula for personal trainers and group exercise instructors for an international education provider. In her spare time, Matte writes fiction and blogs.