How to Become a Basketball Trainer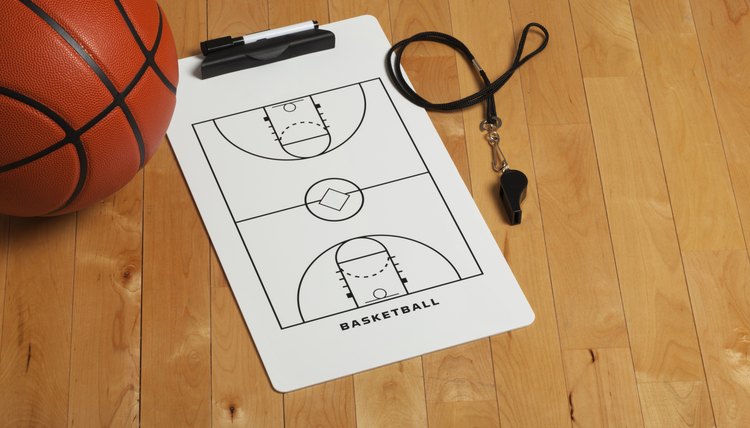 Basketball athletic trainers hold important jobs on the sidelines and in the locker or training room. Athletic trainers work to prevent and treat injuries as well as rehabilitate athletes with injuries. They also help train basketball players in strength and conditioning. Trainers can work in high schools or colleges, with professional teams, or in health care or rehabilitation facilities. The field has a relatively low turnover rate, so besides a love of the game, you will need quality education and experience to obtain a job in basketball training.
Understand basketball thoroughly. Having an understanding of the rules, regulations and general flow of the game of basketball is beneficial prior to finding a job in the basketball industry.
Attend college. To become an athletic trainer, you need to obtain an undergraduate degree in athletic training. More than 350 accredited undergraduate programs are available across the United States, according to the U.S. Bureau of Labor Statistics. Your studies will likely include anatomy, physiology, biomechanics and nutrition in both classroom and clinical settings.
Intern with a basketball organization. Acquiring an internship as an athletic trainer at a high school or college or with a professional basketball team will give you insights on how the job works, help you to build contacts and allow you to indicate on your resume that you have previous experience working in the basketball field.
Obtain your certification. All states and a vast majority of employers require that you pass your board exams prior to beginning employment. Certification is obtained through the National Athletic Trainers' Association.
Study for a specialized certification. These are rare; however, the International Fitness Professionals Association offers a course specific to the basketball industry. This certification prepares you to work in strength and conditioning specific to the sport of basketball.
Tips
For a competitive edge in the athletic training industry, a graduate degree can help put you ahead of the competition. The Bureau of Labor Statistics indicates that 70 percent of athletic trainers currently employed have graduate degrees. You can also consider a career as a personal trainer and work with school-aged or college athletes or professional basketball organizations.
Warnings
No specific degree or certification is required to work specifically in basketball. But those looking to work in the basketball field should educate themselves in the fields of sports medicine, athletic training and personal training before applying for a job with basketball organizations.
References
Writer Bio
Michelle Zehr started writing professionally in 2009. She has written on health, fitness, fashion, interior design, home decorating,sports and finance for several websites. Zehr possesses a Bachelor of Arts in communication from the University of Pittsburgh, a Master of Arts in professional writing from Chatham University and a graduate certificate in health promotion from California University of Pennsylvania.