Brands of Quad Bikes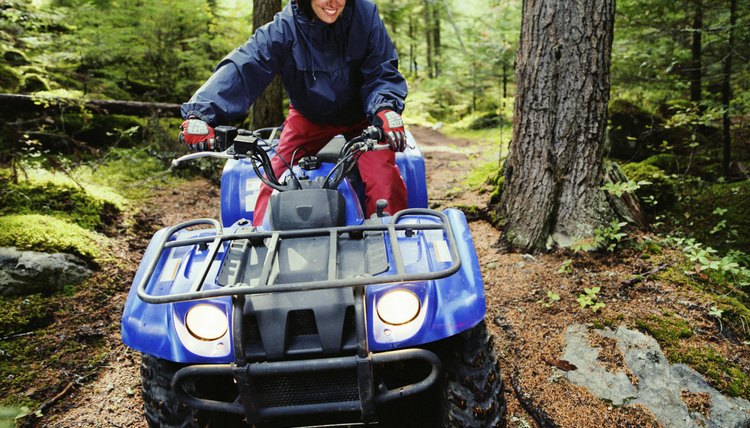 In 1967, the U.S. division of Honda came up with an idea for boosting profits as motorcycle sales wane during the winter months. Honda produced the first All Terrain Vehicle in 1970. It had three wheels. Following numerous accidents, Suzuki developed a safer ATV with four wheels, also called the quad bike, in 1982.
Arctic Cat
Arctic Cat, which produces a variety of recreational vehicles, is also known for their line of snowmobiles. Arctic Cat began offering ATVs in 1996, and lays claim to the first 1000cc quad bike, the Thundercat. Arctic Cat quad bikes are sold across North America.
Bombardier -- BRP
The first to offer ATVs for two riders, BRP specializes in motorized recreational vehicles and powersports engines. This Canadian company manufactures and sells quad bikes and other recreational vehicles across North America, Finland and Austria. These machines are available in 100 countries from over 4,200 dealers.
Honda
Honda, the birth father of all quad bikes, has a long history of innovation in the realm of recreational vehicles. Over the years, the company has responded to customer demand for more horsepower, more versatile vehicles and safety features by developing an entire line of quad bikes and other ATV products.
Kawasaki
Kawasaki joined the quad bike industry in 1989, introducing its first model as a four-wheel drive. The company also offered the first 400cc engine available in 1993, and continues to produce quad bikes and other RVs today.
KTM
Based in Austria, KTM bikes are easily recognized by their orange color at motocross events. The company spent some time in turmoil, following the death of their company manager and a few changes in ownership. KTM sells the successful 450SX and 5055SX.
Kymco
This Taiwanese bike maker is known for offering some of the lest expensive quad bikes on the market. Kymco entered the North American market in 2002, offering models for youth as well as sports and utility models.
Polaris
Polaris is also a maker of snowmobiles. In 1985, Polaris became the first company in North America to manufacture ATVs. In 1987, the company progressed the cause of quad bike riders by offering an improved braking system and automatic, four-wheel drive, rather than manual. In 2001, Polaris introduced what was the biggest engine on a quad bike at the time, with its 683cc Sportsman series.
Suzuki
In 1983, Suzuki improved the safety of ATVs by introducing the first four-wheeler. The machine also offered an odometer and five forward speeds plus a reverse gear. In addition to marketing to the sports world, Suzuki also offers products for farmers and worksites.
Yamaha
Yamaha entered the ATV market in 1975. In 1984, Yamaha began offering a four-wheel ATV, at the same time Honda did. By 1985, the company had introduced the first 5-valve per cylinder engine, and in 2004 rolled out the Rhino Side X mode. Like Polaris, this machine is used on worksites and farms as well as on the trails.
References
Writer Bio
AJ Carpenter has a bachelor's degree in P=physical education and a master's in Journalism from Missouri State University. He has written for various publications on topics ranging from health and fitness to education and gardening.