Gymnastic Rings Dimensions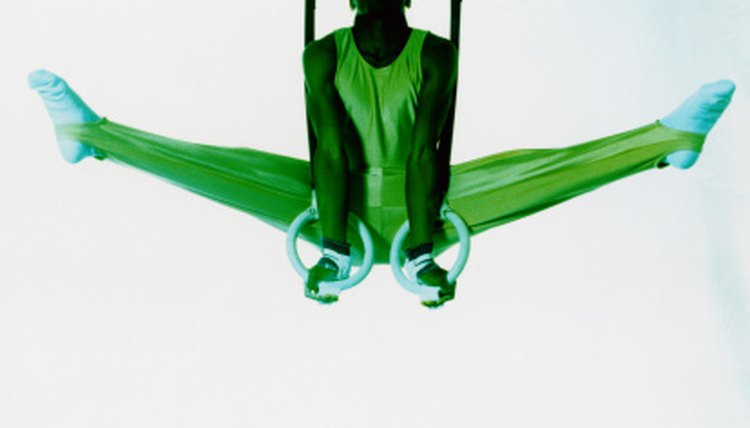 Male gymnasts display strength and control on the still rings. In international competition at the elite and junior elite levels, the Federation Internationale de Gymnastique sets the apparatus requirements, including the dimensions and setup of the ring tower and all related equipment. USA Gymnastics follows the FIG Apparatus Norms for all equipment.
Ring Tower
The competition-size still rings tower stands approximately 19 feet high. Four tensions cables anchor the tower to the floor. Two cables, also called straps, attach to the tower with pivoting mechanisms. The cables hang approximately 9.8 feet in length, with 19.7 feet of space between the cables. Manufacturers use either leather or nylon to make the cables. Made from laminated wood or synthetic material, the two rings are 8 inches in diameter and 1 1/8 inches thick. The rings hang 8 1/2 feet from the ground.
Junior Rings
For safety, young boys learn on a miniature version of the ring tower, with shorter straps that hang closer to the ground. The ring size stays the same for all ages. Many junior-size still rings adjust in height by 3- to- 4-inch increments to accommodate boys of different ages and heights. Most junior-size ring sets hang roughly 6 to 7 1/2 feet from the ground. Preschoolers learn on rings 3 1/2 to 4 1/2 feet from the ground.
Additional Equipment
Below the ring tower sits a 7.8-inch thick rectangular mat, on which the gymnast dismounts for safety. The mat helps absorb the shock on the feet. The FIG-regulation mat measures about 7 feet 10 inches in width and 15 feet 5 inches in length. When learning new skills, a gymnast may practice over a pit filled with foam blocks. The pit allows the gymnast to fall safely before he sticks the dismount.
Skills
The ring dimensions make the skills you see in Olympic competition possible. The long length of the straps allows a gymnast to move the rings in all directions. The length allows a gymnast to hold the popular iron cross skill, with his arms outstretched to each side and his legs vertical, turning his body into a T-shape. A gymnast must hold each skill still for at least two seconds to receive full points -- thus, the name of the apparatus. The length of the straps also allows a gymnast to manipulate the rings for swing movements into handstands and a dismount.
Resources
Writer Bio
Ivy Morris specializes in health, fitness, beauty, fashion and music. Her work has appeared in "Sacramento News and Review," "Prosper Magazine" and "Sacramento Parent Magazine," among other publications. Morris also writes for medical offices and legal practices. She holds a Bachelor of Arts in government-journalism from Sacramento State University.