iFit Compatible Recumbent Bikes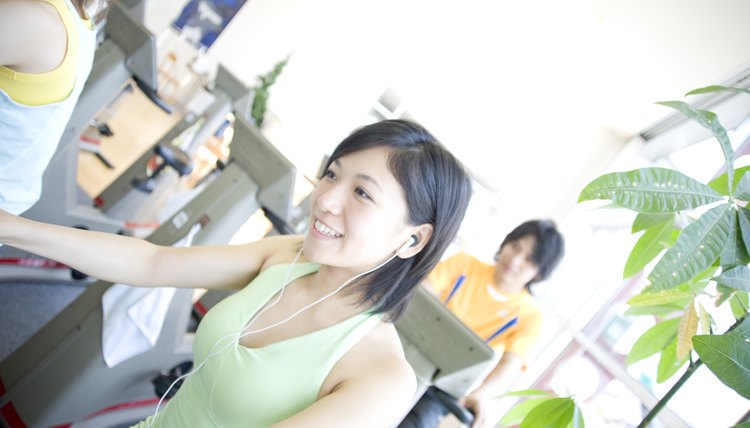 Only certain brands of exercise machines produced by ICON Health & Fitness brands offer iFit, an interactive feature that lets you stream additional workouts, create your own workouts with Google Maps, track your workout metrics and compete against other iFit users online. The ICON brands that offer recumbent bikes with this feature are Reebok, HealthRider, ProForm, NordicTrack and FreeMotion.
The iFit Features
Some of the most notable iFit features include the ability to stream HD video of certain programmed workouts. You can also create your own workouts in Google Maps and view the Google Street View images that accompany your selected terrain. Or download a series of programmed workouts coached by celebrity trainers including Jillian Michaels. New streamable workouts are added every week, and the workouts can be customized to fit your schedule and desired intensity level.
Extra Fees Apply
If your recumbent bike is listed as "iFit enabled," it has everything you need to activate the iFit feature -- but you still have to purchase the iFit subscription, which costs $99 for one year or $149 for two years as of March 2014. If your bike is listed as "iFit compatible," you must purchase a separate iFit module to install in your bike at a cost of $99 as of March 2014. You get a one-year iFit subscription for free when you purchase the module.
Not all of ICON's recumbent bikes come with iFit capability. If your stationary bike is neither "iFit enabled" nor "iFit compatible," you're limited to the programmed workouts and features it comes with.
Brands and Models
The following recumbent bicycles are iFit compatible: the Reebok 610, HealthRider H35xr, ProForm 6.0 ES, NordicTrack GX 4.5, NordicTrack GX 5.0 and NordicTrack Commercial VR. The NordicTrack Commercial VR Pro is iFit enabled.
Another recumbent bike, the Reebok Paceline RX 5.0, has iFit workout card technology. This is an older version of iFit that lets you load extra workouts from iFit cards that you insert into the bike's console.
Take It on the Road
If your recumbent bike is iFit capable, you can integrate your on-the-bike and outdoor workouts by using the iFit app on your smartphone. The app automatically tracks your outdoor workouts and uploads the information to your iFit account. You then have the option of accessing, and recreating, the stored workouts from your stationary bike.
You can also access your iFit account, and all your stored workouts, from any FreeMotion exercise machine in your gym.