What Are High-Rise Mountain Bike Handlebars?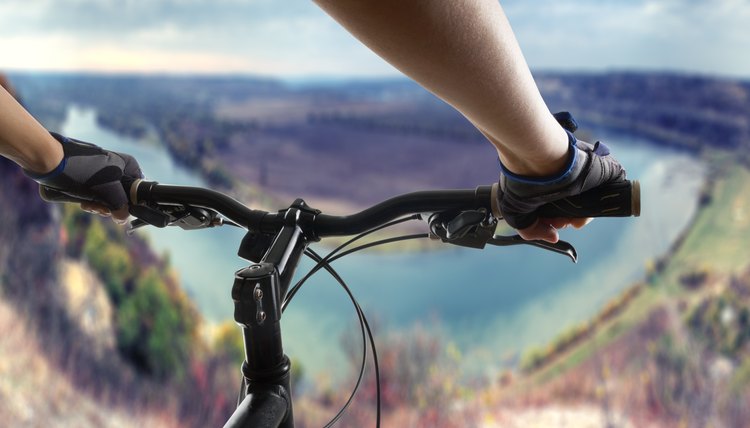 The rise of a pair of handlebars, often called up-sweep, refers to how high the handlebars are angled from the center, where they meet the stem. Having a higher rise in your handlebars can help compensate for the fit of the frame itself or the length of the steering tube of your fork. The rise of a pair of mountain bike handlebars usually falls between 1 and 3 inches and can help you fine-tune your riding position for greater comfort and less numbness in your hands.
Rising to the Occasion
Riser bars have two bends near the center that let the grips and shifters of your bars sit higher than the height of your stem. If the steering tube of your mountain bike doesn't come up high enough to give you the upright riding position you want, high-rise handlebars can add a boost of a few inches. Riser bars are preferred by riders who want to avoid having a particularly sharp stem angle.
Finding Your Fit
To determine if you need high-rise handlebars on your mountain bike, take a look at the overall fit of your bike. The reach of your handlebar setup is dependent on the rise in the handlebars, the length and angle of your stem and steering tube and the length and angle of your top tube. In a proper setup, your frame's dimensions are matched based on your inseam and arm length. A properly fitted bike has a riding position that is relaxed and comfortable, with your elbows slightly bent to absorb impact from the front of the bike.
Moving to a High-Rise
Experiencing numbness in your hands or pain and soreness in your shoulders and neck is a good indication that you're reaching too far for your handlebars, locking your elbows and redistributing vibration and impact to your joints. Installing handlebars with a higher rise makes it less difficult to reach forward to meet your handlebars. A professional at your local bike shop can diagnose fit issues and recommend solutions, like high-rise handlebars, an adjustable stem or even a different frame size.
Benefits of Going High
Riser bars add a bit of comfort to your mountain bike ride by letting you sit further back in the saddle while still being able to reach the handlebars. Having an upright riding position is especially useful for beginner riders, since it increases visibility and balance, giving you more confidence. Like any other mountain bike handlebars, they also come in varying widths, with the grips swept back at different angles -- often called "back sweep" -- to tailor to the preferences of different riders. Don't be afraid to experiment with new handlebar configurations to find your favorite set-up.
References
Resources
Writer Bio
Max Roman Dilthey is a science, health and culture writer currently pursuing a master's of sustainability science. Based in Massachusetts, he blogs about cycling at MaxTheCyclist.com.