What Does CCM stand for on Hockey Equipment?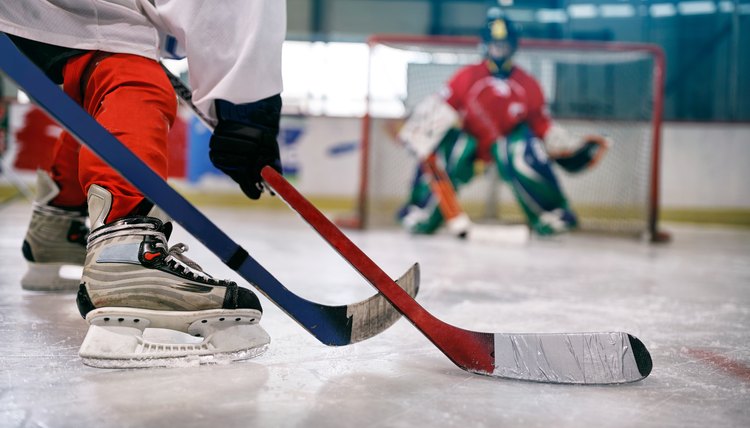 Hockey gear bearing the initials "CCM" comes from Reebok-CCM Hockey, the world's largest manufacturer of hockey equipment and the official supplier of jerseys and apparel to the National Hockey League. The company traces its history back more than a century, although the initials reflect its roots in bicycle and automobile manufacturing.
CCM
The initials CCM stand for "Canada Cycle & Motor," the forerunner of the current company. According to the company website, CCM dates to 1899, when several Canadian bicycle manufacturers joined together to try to block American bike makers' expansion into the Canadian market.
The "Motor" part of the name reflects the company's short-lived early experiments at producing and importing automobiles. In 1905, CCM began producing hockey skates. It later acquired the patent to the Tackaberry Boot, the design worn by generations of pro hockey players — including every single scoring champion in the NHL from 1939 to 1969.
Company Evolution
After CCM filed for bankruptcy in the early 1980s, the cycle and hockey businesses were sold off separately, although both continued to use the CCM brand name. The hockey operations became part of SLM International, which later renamed itself The Hockey Company. Reebok acquired The Hockey Company in 2004, and Reebok itself was acquired by adidas a year later.
The Hockey Company reorganized and changed its name to Reebok-CCM Hockey in 2007. The CCM brand continued as CCM Hockey under the new corporate structure, while the company's other two major brands, Jofa and Koho, were consolidated under a new label, Rbk Hockey.
Significance
Reebok-CCM says that it's the world's largest producer of hockey equipment and apparel, and that it provides equipment to more professional hockey players than any other company. It's the official outfitter of the NHL, as well as of the two top minor leagues: the American Hockey League and the ECHL, formerly the East Coast Hockey League. The company is based in Montreal and has operations in the United States, Canada and Europe.
Products
The company produces a full line of hockey equipment under the CCM brand: skates, sticks, helmets, gloves, pants, pads and gear bags. Reebok-CCM produces official game jerseys for the NHL and makes and sells licensed apparel — replica jerseys, T-shirts, hats and the like. CCM also makes roller hockey equipment, recreational ice skates and cold-weather performance apparel.
References
Writer Bio
Cam Merritt is a writer and editor specializing in business, personal finance and home design. He has contributed to USA Today, The Des Moines Register and Better Homes and Gardens"publications. Merritt has a journalism degree from Drake University and is pursuing an MBA from the University of Iowa.