Good Way to Break in New Rollerblades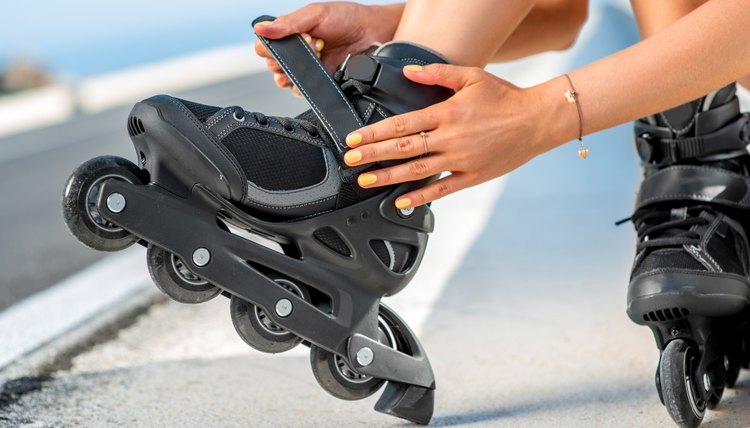 Whether you're into road hockey or roller derby, a good pair of inline skates — of which Rollerblades are the best-known brand — relies on the right fit. When you purchase a new pair, the stiffness of the outer shell may initially feel uncomfortable. By getting the right fit, you'll have a better chance at creating that worn-in, comfortable feel of an older pair of blades. Worn skates are more flexible and comfortable, with less risk of blisters and sores from a long game.
Proper Fit and Sizing
If you don't achieve the proper fit with your Rollerblades, they won't wear properly, no matter how often you use them. It's important that you have your feet sized by a sporting-goods store associate before you decide on a new pair. Rollerblades should fit snugly. In general, if your toes are curled at the end of the toe box, your blades are too small. If you can wiggle your toes freely in the toe box, the blades are too large. While skate sizing is the same as street sizing, the fit is not. Look for a tighter fit across the top of the foot for the right amount of snugness.
Accessories
Wearing the right types of socks with your Rollerblades will help wear them in faster based upon the gear you typically wear while skating. Always wear socks while wearing skates, as skating barefoot can lead to sores and the wearing away of the lining inside the Rollerblades. Instead, look for medium to thick athletic socks that can be pulled as high as the top of the skate boot. By always wearing the same socks, you'll wear the skates in evenly and always have the right fit.
Lacing
Skating with loose skates isn't only dangerous to your ankles, it can hinder the wearing process. Without a proper, snug fit, you won't evenly break in the sides of your Rollerblades for better comfort. If you have lace-up Rollerblades, pull each line of lacing taut as you work up the length of the skate, then tie in a tight knot. If you use skates with snap enclosures, pull the excess plastic through the snaps until they feel snug, not tight, across your lower shin, ankle and foot, then snap into place.
Frequent Wear
The single best way to break in a pair of Rollerblades is to wear them frequently. As you skate, they'll become softer as they wear according to your skating style, the shape of your foot and the pressure you place on certain areas of the skate while rollerblading. While a new pair of skates might not feel like your softer, older and more broken-in pair, they'll soon become comfortable with frequent use.
References
Writer Bio
Kay Ireland specializes in health, fitness and lifestyle topics. She is a support worker in the neonatal intensive care and antepartum units of her local hospital and recently became a certified group fitness instructor.