What Do You Need for Your First Triathlon Sprint?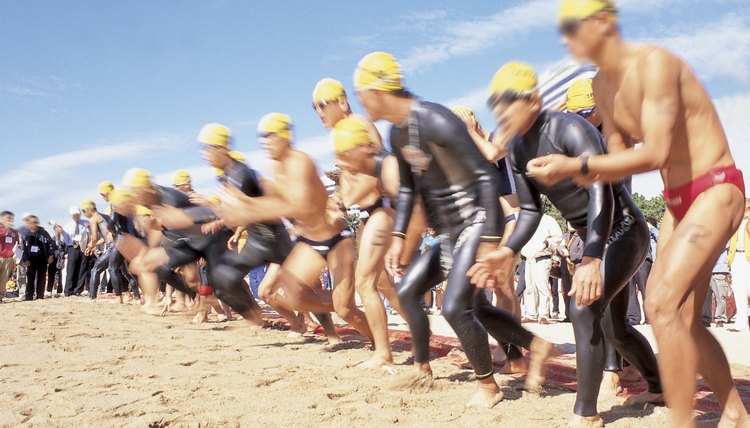 An official sprint distance triathlon consists of a 750-meter swim, a 20-kilometer bike ride and a 5K run, although local races sometimes offer variations of these distances depending on course logistics. In the world of triathlon, this may seem like a blink of an eye when you compare it with Olympic, 70.3-mile or 140.6-mile distances, but you still need all the gear endurance triathletes use. Being prepared will help you tackle this tri-sport event so you can have a successful and fun race.
Swim Strong
Many first-time triathletes choose a race with a pool swim. Although these types of races are less common, they do help alleviate the anxiety that comes with open-water swimming. A pool swim also minimizes gear complications. All you'll need is your suit or a water-proof, streamlined fitness outfit that can double as comfortable, efficient biking and running attire and a pair of swim goggles. Most races provide you with a swim cap, but bring one just in case. If you're doing an open-water swim in cool conditions, you'll also need a wet suit. Vaseline, wet suit lubricants or specially made anti-chafing balms help the suit slide on and off easily.
Cycling Musts
You obviously need a bike -- the type depends on the race terrain and your fitness level. For some races, any old bike will do -- especially if the course is paved. If you are entering an off-road triathlon, you'll need a mountain bike. If you ride with clips, bring your bike shoes as well. A helmet is an absolute must -- most races will not permit you to leave the transition area until your helmet is strapped onto your head. Equip your bike with a small pack that holds a spare tire tube, just in case; you'll also need a mini pump and tire levers. If you pop a tube on Mile 1 of the bike ride, your race is over if you don't have the equipment with which to repair it. You aren't born knowing how to change a flat, so ask a seasoned cyclist or your local bike shop for a quick lesson. Bike shorts are optional for a 20K ride -- if you need them, slide them over your swim suit once you get out of the water. You might be happiest with triathlon shorts that have a smaller pad and make running more comfortable.
Run Gear
Shoes may seem like a given, but don't forget to pack them on race day. You'll want running shoes, rather than cross trainers, which provide you with proper support for your 5K. A race belt to which you can affix your run bib is helpful, but you can always pin your bib to your shirt. If you plan to change from a cycling shirt to a running shirt, make sure you pin a bib to both -- most races provide two bibs for just this purpose. Socks, if you didn't use them during the cycling portion, are another necessity. Some seasoned triathletes will brave a 5K in a Sprint tri without them, but if you aren't accustomed to this strategy -- race day is not the time to try. If you run with a hat, bring it on race day. It shields the suns rays and can be dunked in water to cool you down if you race on a particularly hot day.
Transition and Beyond
A towel in the transition area is used to dry your feet. Don't forget sunscreen -- apply it just before the race starts and if you have a moment, in transition. You might also want lip balm in your bag as well as a small snack to have just before the run. Sports gels, chews or mini-energy bars work well. If you wear a timing device or a GPS watch, bring that as well so you can keep track of your pace during the race. Some triathletes attach a balloon or a brightly colored ribbon to their transition row to help them identify their location. This can be especially helpful if you are participating in a race with hundreds of participants. Also, don't forget to pack sunglasses, which will be essential during the cycling and running portions of the race.
References
Writer Bio
Andrea Boldt has been in the fitness industry for more than 20 years. A personal trainer, run coach, group fitness instructor and master yoga teacher, she also holds certifications in holistic and fitness nutrition.