Famous Black Soccer Athletes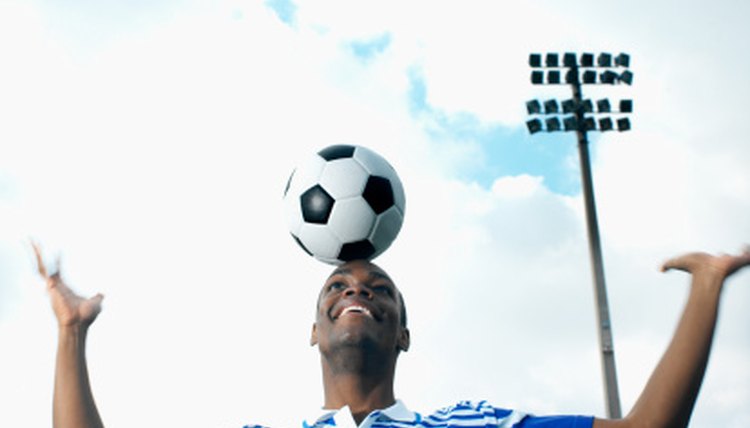 The modern game of soccer began in 1863 in Great Britain, according to the world's football association, the Federation Internationale de Football Association. FIFA began sponsoring competitions between countries with a match between Belgium and France in 1904. The first World Cup occurred in 1930 in Uruguay and the stage was set for many more years of world class soccer and generations of famous black soccer athletes.
Pele
Few soccer fans would dispute Pele's title as the best soccer player ever. Born Edson Arantes do Nascimento in a small town in Brazil, Pele grew up playing soccer and was the youngest player to win a World Cup medal when he was only 17 years old. He went on to score 1281 goals in a career of 1360 games. In his 15 year career with the Brazilian national team, Pele broke many soccer records, such as winning three World Cups and scoring more competition points than anyone else. Pele ended his career with the New York Cosmos, doing his part to develop soccer in the United States.
Eddie Pope
Among famous black U.S. players is Eddie Pope, who played on the U.S. Men's National team for 11 years, beginning in 1998. Pope is tied with two other players for the most World Cup qualifying appearances of 31 matches. He also played for 11 years in professional soccer and was an all-star four times and a Major League Soccer champion three times.
Briana Scurry
Born in Minneapolis in 1971, Briana Scurry was the top college women's soccer goalkeeper while at the University of Massachusetts. She went on to play as the goalkeeper on the U.S. Women's World Cup team from 1992 until 2004, helping the team win two gold medals and the 1999 title, where fans remember her dramatic save during a penalty kick by China. Scurry also played in the Olympic Games and in professional soccer until she retired in 2010.
Worldwide Black Athletes
The list of famous black soccer athletes worldwide is long and distinguished. It includes three Brazilians, Ademir, who scored 32 goals internationally in 39 games, Jairzinho, who played for 20 years with the national team; and Romario, who played in the 1990s as a forward and won the FIFA Player of the Year in 1994. Famous African players include Nwankwo Kanu, a Nigerian who played in England and was part of the World Cup winning team in 1998; Abedi Ayew, selected three times as Top African Footballer; and George Weah, from Liberia, who played in top professional teams in Europe, was selected as the Best Footballer in Europe in 1995.
References
Writer Bio
Susan Lundman began writing about her passions of cooking, gardening, entertaining and recreation after working for a nonprofit agency, writing grants and researching child development issues. She has written professionally for six years since then. Lundman received her M.A. from Stanford University.