What does fact checked mean?
At SportsRec, we strive to deliver objective content that is accurate and up-to-date. Our team periodically reviews articles in order to ensure content quality. The sources cited below consist of evidence from peer-reviewed journals, prominent medical organizations, academic associations, and government data.
The information contained on this site is for informational purposes only, and should not be used as a substitute for the advice of a professional health care provider. Please check with the appropriate physician regarding health questions and concerns. Although we strive to deliver accurate and up-to-date information, no guarantee to that effect is made.
How to Get Rid of Foot Cramps After Running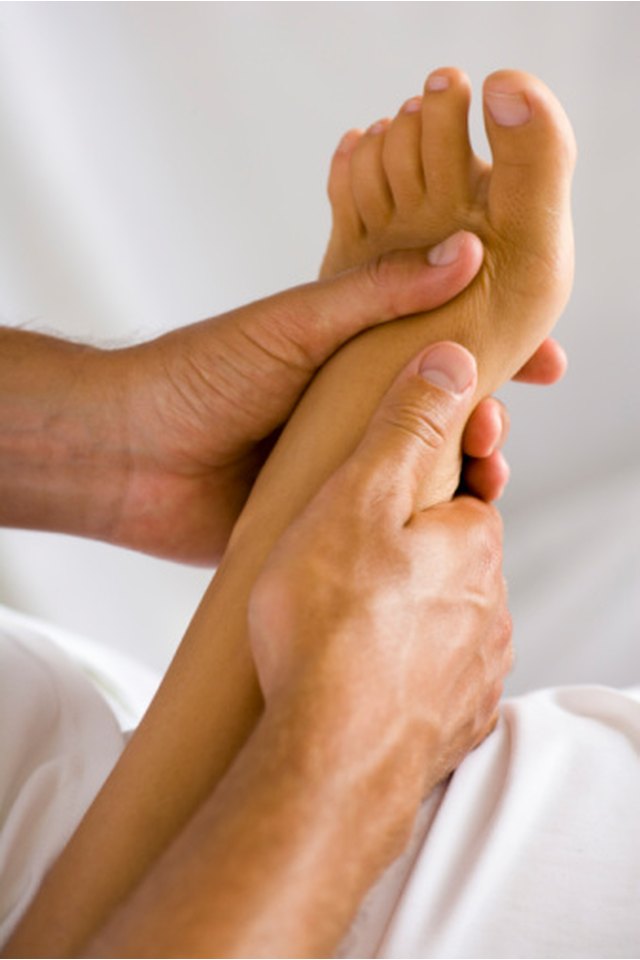 It may feel good to take a long run, but muscle cramps in your feet can ruin the rest of your day. Muscle cramps may occur due to dehydration and strenuous muscle exertion. After working your muscles for a long period of time, the muscles in your feet may involuntarily contract, causing a painful spasm. You can reduce foot cramps at home with items you may already have around the house. Talk to your doctor before treating your foot cramps yourself, particularly if you have health conditions or injuries.
Rub your feet to relax your muscles and reduce foot cramps. Rub your muscles upward, toward your heart to increase the blood flow to your foot, which will help your muscles relax. If you get foot cramps while you sleep, rub your feet right before bed.
Stretch your feet after running and before bed. Point your toes for five seconds, then flex them. Continue alternating between pointing and flexing your toes for one minute.
Drink water or a sports drink with electrolytes immediately after running and remain hydrated before going to bed. Dehydration may cause foot cramps, and staying hydrated may help eliminate them.
Place a heating pad or electric blanket over your feet before you go to bed. The heat will relax your muscles, making nocturnal foot cramps less likely.
Go to sleep. If you're sleep deprived, running may cause more muscle fatigue than usual. When you wake up the next morning, your feet may feel more relaxed.
Tips
Go barefoot or wear loose socks to bed -- wearing tight, constricting socks may make foot cramps worse.
Warnings
Do not use quinine to treat muscle cramps. Although it has been frequently prescribed in the past, quinine medications may cause allergic reactions, kidney complications and an irregular heartbeat.
References
Writer Bio
Megan Smith has been a freelance writer and editor since 2006. She writes about health, fitness, travel, beauty and grooming topics for various print and Internet publications. Smith earned a Bachelor of Fine Arts in writing from New York University.