What Is the Difference Between Softball 10U & 11U?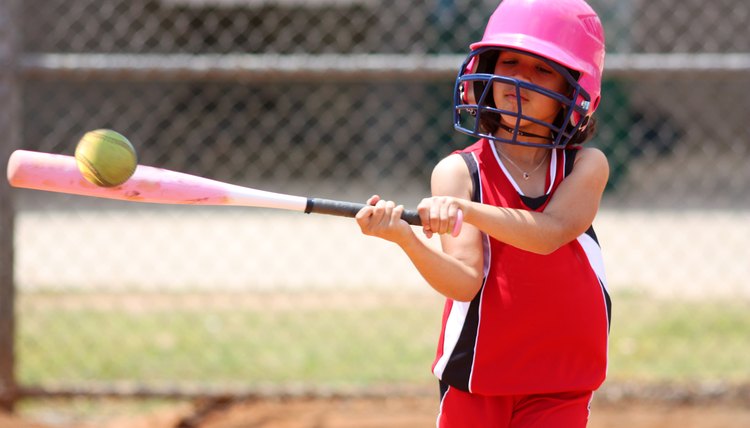 Fastpitch softball sanctioning bodies divide the competition into age groups in addition to classes. This applies to league play and tournaments. The primary sanctioning groups are the Amateur Softball Association of America, the United States Specialty Sports Association, the American Fastpitch Association, the National Softball Association and the United States Fastpitch Association. Most national sanctioning bodies set age groups two years apart: 8U, 10U, 12U, 14U, 16U and 18U. But the USSSA also offers 9U, 11U, 13U and 15U categories. Fastpitch softball changes quite a bit after the 10U level, so there are significant rules differences between the 10U and 11U levels.
The 10U Category
To play on a nationally sanctioned 10-and-under team in a given year, a player must be no older than 10 years old on Dec. 31 of the previous year to play on NSA, ASA, AFA, USFA teams, or Jan. 1 of the current year to play on USSSA. A 10U team may therefore include players who are actually 11 years old during the season. Team managers collect birth certificates to present as proof of age as needed.
The 11U Category
Fastball softball changes quite a bit after the 10U. In the USSSA 11U category, the pitching distance moves from 35 feet to 40 feet. The ball increases in size from 11 inches to 12 inches. The infield fly rule comes into effect at 11U but doesn't apply at 10U and younger. When the catcher drops a third strike at 10U, the batter is out. Beginning at 11U the batter may attempt to reach base on dropped third strikes. The time limit for World Series elimination games shrinks by 15 minutes at the 11U level, to 1 hour and 30 minutes.
Fall Ball Qualifying Tournaments
A 10U team may play in fall leagues under the same age guidelines. But sanctioning bodies like the USSSA may treat fall competition (Aug. 1 to Dec. 31) as the start of the next season. For instance, teams could begin qualifying for 2013 national tournaments in the fall of 2012, but age regulations for the next year would apply. In those cases 10U teams may have to move up to 11U or 12U to be eligible to play.
"Playing Up" In Softball
Younger players are allowed to play in older age categories. An 8-year-old player is allowed to play 10U softball, for instance. Advanced players often "play up" in softball to face better competition. Players are not allowed to "play down," however, in nationally sanctioned leagues and events. For example, a 12-year-old player is not allowed to play 10U.
References
Writer Bio
Jeff Gordon has been reporting and writing since 1977. His most recent work has appeared on websites such as eHow, GolfLink, Ask Men, Open Sports, Fox Sports and MSN. He has previously written for publications such as "The Sporting News" and "The Hockey News." He graduated from the University of Missouri-Columbia School of Journalism in 1979 with a bachelor's degree.