What Is Travel Ball Softball?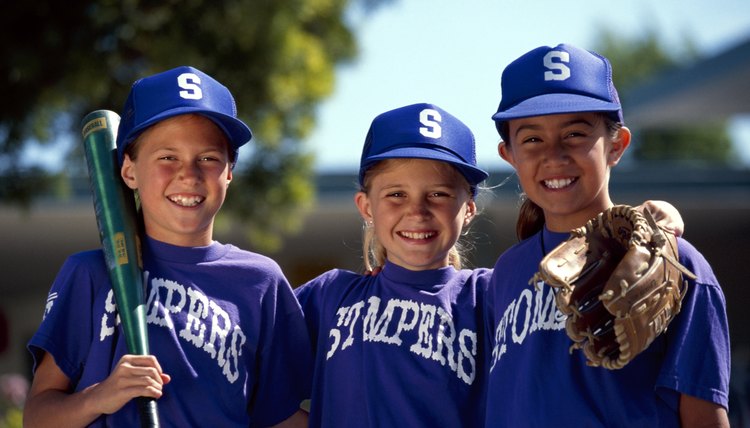 Travel ball softball is the next step up from recreational girls softball. It can be a relatively small step up the competitive ladder -- or it can be a difficult and expensive leap. The low-end "travel" teams can be a local athletic association teams venturing to a few tournaments outside the region. The high-end teams travel to tournaments every weekend and qualify for national tournaments.
Players Have to Try Out
While many recreational leagues let anybody play -- as roster space permits -- travel teams typically recruit players and conduct tryouts. These "select" teams also may change players during the course of the season, adding and subtracting players based on performance. In addition to playing in tournaments in and out of town, these teams often play in multiple leagues as well. Select softball starts at the 8U level -- 8 years old and under.
Sanctioning Bodies
Teams may play in leagues and tournaments sanctioned national bodies such as the Amateur Softball Association of America, the National Softball Association, the United States Specialty Sports Association, the United States Fastpitch Association, the American Fastpitch Association and the National Fastpitch Softball Association. Rules vary from group to group, so players, coaches and parents must understand the differences.
A, B and C Designations
Most of softball's major sanctioning bodies have "A" and "B" designations for local, regional and national tournaments. Some regions features "C" tournaments, too, for recreational-level teams. The difference between "A" and "B" can be murky. Strong teams may play in "B" tourneys looking to win games and trophies and lesser teams may play up in "A" tourneys to gain experience against better competition.
Expenses Can Add Up
Travel softball can become quite expensive. Some teams charge a flat fee up front, some allow parents to pay as they go and some combine the formulas. Team fees may cover tournament entry costs, batting cage rental, practice field rental, uniforms, equipment and organizational costs. Travel expenses also can become considerable. At higher competitive levels, players also may hire personal hitting, pitching, catching or fitness instructors. Families may spend thousands of dollars a year on softball.
A Significant Time Commitment
Players give up more than their summer weekends to play on a travel team. These teams often play and practice during the week, too. Off-season practices are common. Teams in cold-weather states may play indoor tournaments. High-end players may attend clinics and work year-round with personal instructors. As athletes get older, it becomes more difficult to play more than one sport at a high level.
The Payoff
Players gain a lot from travel softball. Out-of-town tournaments give players a chance to bond away from the field. Long-term friendships form. The constant work allows players to improve their skill level. Coaching tends to be better. Players gain from competing regularly against other ambitious players. The best select teams attract attention from college scouts. In fact, elite 18U and Open teams may be better than most high school teams and many small college teams.
Resources
Writer Bio
Jeff Gordon has been reporting and writing since 1977. His most recent work has appeared on websites such as eHow, GolfLink, Ask Men, Open Sports, Fox Sports and MSN. He has previously written for publications such as "The Sporting News" and "The Hockey News." He graduated from the University of Missouri-Columbia School of Journalism in 1979 with a bachelor's degree.