Soccer Rules & Regulations on Yellow Cards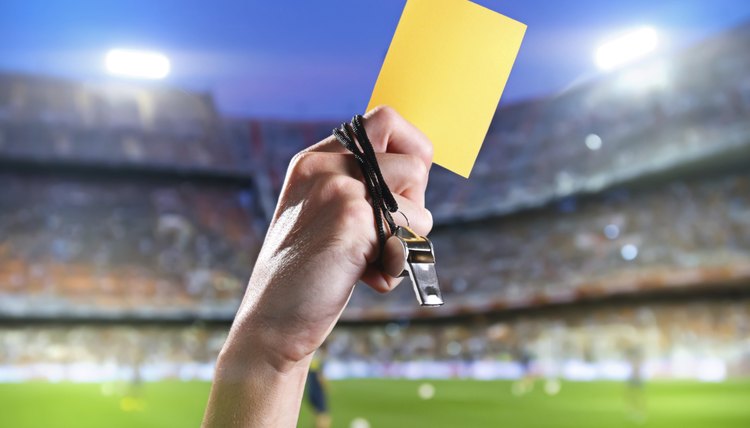 Soccer referees use yellow cards to communicate an official caution to a player, substitute or substituted player. Unlike a verbal warning, a yellow card can have more drastic and long-lasting effects. A referee might show a player a yellow card for a number of different reasons.
Standard Player Cautions
A referee will show a player a yellow card for a number of standard offenses, as defined by FIFA's Laws of the Game. Delaying the restart of play is a yellow card offense, as is a failure to maintain the required distance from a restart. Both potential cautions apply to corner kicks, free kicks and throw-ins. According to FIFA, a player always must receive permission from the referee before entering, re-entering or deliberately leaving the field of play.
Unsporting Behavior and Dissent
The referee uses his discretion when deciding to caution a player for unsporting behavior or dissent. Unsporting behavior includes any attempt to cheat or circumvent the laws of the game. It also covers acts of aggression such as swearing, spitting or striking another player. Dissent includes any word or action that shows disdain for or opposition to the referee's rulings. Arguing with the referee often leads to a yellow card, but the boundaries are not always clear. If a player uses foul language when talking directly to the referee, she almost certainly will receive a yellow card. Dissent by action includes any physical display of anger after a refereeing decision. For example, kicking the ball away in anger, throwing a water bottle or striking a corner flag could result in a yellow card.
Persistent Infringement
Some actions, such as overly aggressive tackles, might result only in a free kick to the opposition. If a player continues to foul in this manner, though, the referee might decide to show him a yellow card for persistent infringement of the laws.
Substitute Cautions
The referee can caution players even if they are not on the pitch. This includes substitute players sitting in the dugout or warming up on the touchline. These players can be cautioned for unsporting behavior, dissent by word or action or delaying the restart of play.
Two Yellow Cards = Red
If a player receives a second yellow card during the course of a single match, the referee will immediately show her a red card and order her off the field of play. The player cannot return to the field of play during the match, and her team will have no option but to play with one fewer player. And in many professional leagues, a player will receive a fine, suspension or both if he receives a certain number of yellow cards during the season. Both fines and suspensions occur in Major League Soccer, for example.
References
Writer Bio
Anthony Grahame has been a writer for more than 15 years. He began writing professionally online in 2008. He has a degree in English literature from the University of Sussex and is an experienced traveler and travel writer. His work has been published on a variety of well respected websites including "Living in Peru".