What Size Bike Should a 9-Year-Old Girl Have?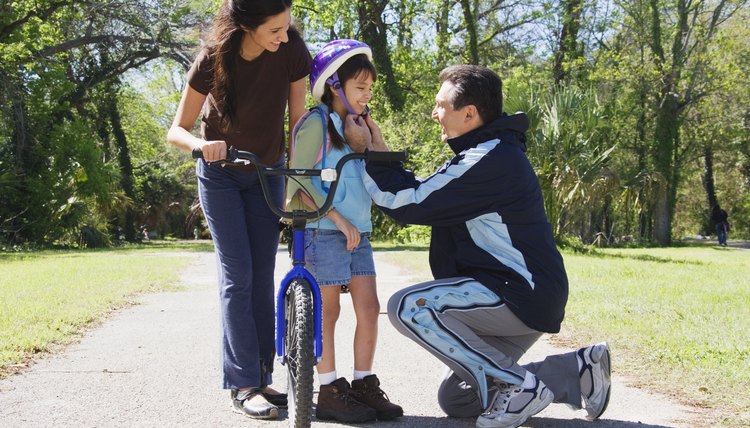 Finding the correct bike size for your child can be a daunting task. Lacking many of the specialized size adjustments available in adult bikes, children's bikes are sized based on the diameter of the wheel that also corresponds to the size of the bike frame. A 9-year-old girl should look for a bike with wheels between 16 and 20 inches, depending on her height.
Fit
A bike should be comfortable to ride. When standing with feet shoulder-width apart, your child's rear should be 1 to 2 inches above the seat. The grips on the handlebars should be approximately shoulder-width apart. The tilt of the seat and the length between the seat and handlebars should have her leaning forward slightly.
Wheel Size
Where adult bikes are sized by the length of the frame, children's bikes are sized by the diameter of the wheel. Sizes range from 12 to 24 inches. Select a wheel size based on the height of your child. The International Bicycle Fund recommends a wheel size of 18 inches for 6- to 9-year-olds, although this size may not be commonly available. A child with an inseam length of 18 to 22 inches should select a bike with a 16-inch wheel. A child with an inseam length of 22 to 25 inches should choose a bike with a 20-inch wheel.
Finding the Right Bike
Expect your child to outgrow her bike in a few years. After deciding on the correct size, select a range of bikes to decide on the best set of features. As a general rule, cheaper bikes will also be heavier, as they are made from steel rather than a lighter, more expensive alloy. Other features to consider include the method of braking by hand brakes or coaster brakes, and safety features such as training wheels and chainguards.
Safety
Always ensure your child wears a snugly fitting helmet when riding a bike. Supervise you child until she develops proper safety skills and whenever she is riding in a potentially hazardous area such as a road. For maximum protection, have your child wear knee and elbow pads.
Writer Bio
Chris Daniels covers advances in nutrition and fitness online. Daniels has numerous certifications and degrees covering human health, nutritional requirements and sports performance. An avid cyclist, weightlifter and swimmer, Daniels has experienced the journey of fitness in the role of both an athlete and coach.