Funny Facts About the Sport of Cricket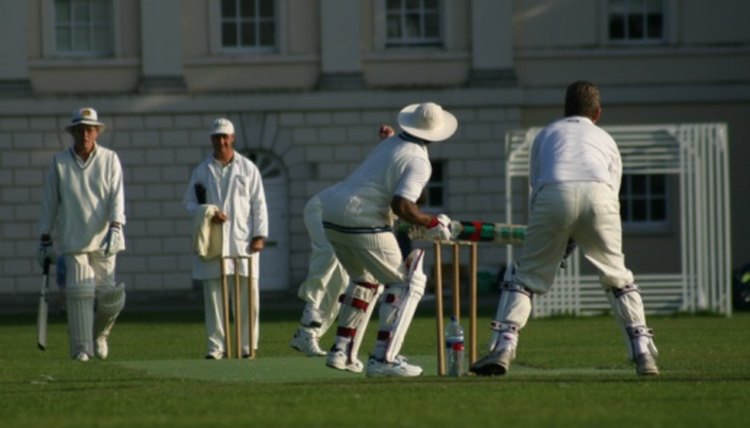 Cricket is thought to have originated with English shepherds who developed the game to play while they guarded their flocks. Known as England's national pastime, cricket is played by two 11-player teams that take turns batting. The object of the game is to score the most runs. Batsmen score runs while bowlers bowl balls and attempt to get batters "out," meaning removed from the playing grounds. Ten fielders help the bowler prevent batters from scoring.
Equipment
"Wicket" refers to the small gates used on cricket playing grounds. Cricket bats weigh anywhere from 2 to 3 pounds and the balls are made of layered cork wrapped tightly with string and covered by an outer layer of leather. Men's cricket balls weigh about 5 1/2 ounces. Bats and balls used by women and youth cricketers are smaller and lighter.
Cricket Vs. Baseball
The first game ever played in the U.S. that used a bat and a ball was cricket. The sport was popular in America from 1834 to 1914, when more than 1,000 cricket clubs existed in 46 states. Cricket led to the game rounders, which evolved into townball and, subsequently, baseball, America's national pastime. Cricket does not use a round base path like that used in baseball. Cricketers run in straight lines.
Bowling Greats
It's not easy to define history's greatest bowler. "The Wisden Cricketer," an English magazine, claims Murali Muralitharan of Sri Lanka is the greatest. Other noted bowlers include Shane Warne of Australia, Richard Hadlee of New Zealand and the West Indies' Courtney Walsh.
Longest Match
The longest match in the history of cricket took place in 1939. England and South Africa took part in a single match that lasted 14 days. Played in South Africa, the game wasn't over at the end of two weeks. England needed 42 more runs to win the game but its ship home was scheduled for departure the next day. The match was declared a draw.
Nelson
There is a long list of terms that are used only in the game of cricket. "Nelson" is a score of 111 and is considered unlucky. Superstitious fans have developed the custom of lifting one foot or both off the ground until a change in score. The superstition originated from a widely held belief that Englishman Lord Horatio Nelson had one eye, one arm and one leg. In fact, Nelson had both of his legs, but attempts by historians to set the record straight have not been successful.
Practical Jokes
During a 1984 tour of Zimbabwe, Australian batsman Greg Ritchie let chimpanzees loose in his team's locker room. Ritchie was scratched from play due to an illness and borrowed the chimps for a joke. Former Australian captain Richie Benaud, known for his dapper appearance, once found his shoes nailed to the floor by a mischievous teammate, Bill Lawry. New Zealand's team manager once gave Jeremy Coney $100 in his rookie season for a haircut and new cricket gear, but Coney purchased a 12-string guitar instead. Coney eventually captained the team.
References
Resources
Writer Bio
A.G. Moody is a multiple award-winning journalist who has been writing professionally since 2000. He has covered everything from business to health issues. His work has appeared in the "Milwaukee Journal Sentinel" and numerous other newspapers and magazines. Moody earned a Bachelor of Arts in journalism from Eastern Washington University.