The Average Money Spent on Gym Equipment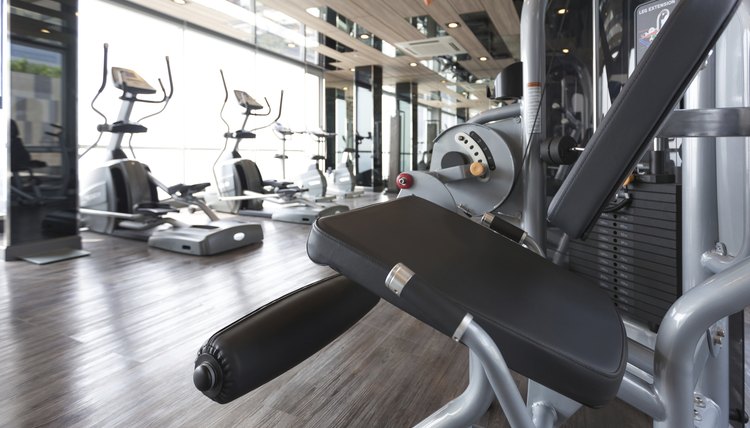 According to a survey of spending published by the National Endowment for the Arts, American households spend an average of $130 annually on sports and exercise equipment. Bruce Hammond of the National Sporting Goods Association says that the average purchase price of a multi-purpose home gym station was $640 in 2011. However, the amount of money people spend on exercise equipment varies depending on what type of equipment they wish to purchase and how many features they want.
Cardio Equipment
When equipping a home-gym, it's critical to consider at least one piece of cardio equipment. The top four treadmill picks from Consumer Search range from $990 to $3,500, with the average costing around $2,000. Another piece of popular cardio equipment is an elliptical trainer, which averages $1,500. The main variables accounting for price differences include durability, display features and built-in workout programs.
Strength Equipment
The costs of resistance training equipment vary widely depending on whether you choose free weights and resistance bands or weight machines that work specific muscle groups. Consumer Search's top picks for dumbbells range from $10 per set to $400 per set. A total-body training machine averages $1,381, with the lower end models costing $175.
Professional Gyms
Professional gym owners make up some of the consumer dollars spent on exercise equipment each year. While professional facilities can boast more cardio machines and weight stations to meet consumer demands, the equipment is often comparable to home-gym equipment. According to a sales presentation from Dynamic Club Out-fitters, a complete gym equipment package composed of treadmills and weight equipment, and designed for gym owners, was priced at $77,000.
Options
A home gym can be designed on any budget. Instead of bulky cardio equipment, use jump ropes and stairs or run in place to increase your heart rate and burn calories. Strength training can be achieved with jugs filled with water or sand, or with calisthenics which require only your body weight for resistance. Consider springing for the high-priced cardio equipment while strength training with resistance bands, or run for cardio and invest in a set of free weights.
References
Writer Bio
Pha Lo has received fellowships from the American Society of Newspaper Editors and the California Women's Foundation. Her work has been published in the "San Francisco Chronicle," "Sacramento Bee," "Pacific News Service" and "Audrey Magazine." She graduated from the University of California at Berkeley with a Bachelor of Arts in political science. Lo is a nutrition educator and a certified food safety manager.