Differences Between Tumbling & Gymnastics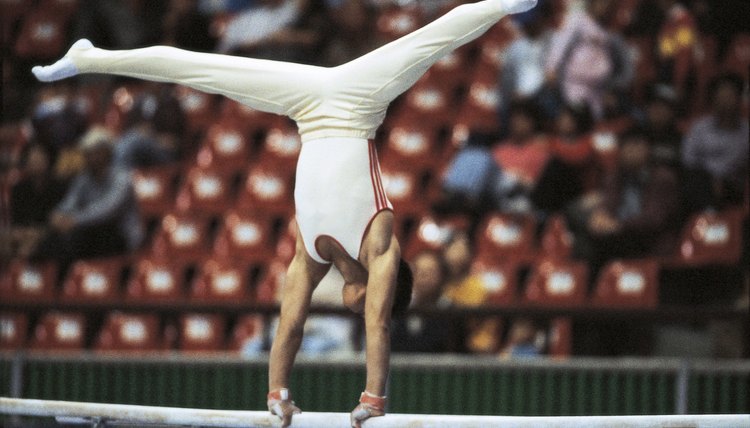 Tumbling is one of the competitive athletic sports incorporated under the broader umbrella of gymnastics. Usually referred to as "trampoline and tumbling," this sport joins those of artistic gymnastics, rhythmic gymnastics and acrobatic gymnastics, all supervised and sanctioned by the national governing body, USA Gymnastics. The NCAA recognizes gymnastics at the collegiate level but it has no similar designation for tumbling. The smaller, but growing, sport of tumbling is sanctioned at the collegiate level by the NCATA.
Tumbling
Tumbling is a form of acrobatic activity that involves flips, jumps, rolls, somersaults and handsprings linked together into performance routines and usually performed on a padded floor and choreographed to music. In many ways, a tumbling routine is similar to the floor exercise in gymnastics, although it does not include as many elements of formal dance. Unlike the other elements of gymnastics, tumbling uses no special equipment such as a vault or pommel horse. Tumbling passes may also be used in cheer or dance routines.
Women's Artistic Gymnastics
Women's artistic gymnastics competitions include performance in four separate events: the floor exercise, vault, uneven parallel bars and balance beam. With the exception of the floor exercise, these events all require highly specialized equipment, manufactured for the sole purpose of women's gymnastics. The sport of tumbling uses no such equipment and does not involve these four separate events. Tumbling activities do make up a large part of the women's floor exercise, balance beam and vault, as well as dismount from the uneven parallel bars.
Men's Artistic Gymnastics
Men's artistic gymnastics includes six distinct events: the floor exercise, pommel horse, rings, high bar, parallel bars and vault. Again, with the exception of the floor exercise, all of these events require the use of specialized equipment that is not used in the sport of tumbling. Moves characteristic of the sport of tumbling are incorporated into the men's gymnastic floor exercise as well as dismounts from the parallel bars, rings and high bar.
Rhythmic and Acrobatic Gymnastics
Unlike artistic gymnastics and tumbling, rhythmic and acrobatic gymnastics do not make much use of tumbling activities. Rhythmic gymnastics involves acts of great flexibility and artistic grace rather than the powerful athletic moves of tumbling and artistic gymnastics. Rhythmic gymnastics is performed mostly on the floor, without special apparatus such as the vault, beam and bars, although gymnasts do perform with balls, ribbons, hoops, clubs, and ropes. Acrobatic gymnastics is performed in pairs or small groups and stresses strength, flexibility and precision.
Writer Bio
A professor of allied health science and member of the American College of Sports Medicine, Warren Rosenberg has been writing since 1979 on topics including health and fitness. His works include the college textbooks "Exercise Science" and "Integrated Science." As a professional photographer, he provides photographs to textbook publishers, magazines and websites. He holds a Ph.D. from New York University.