The Best Tennis Rackets for Kids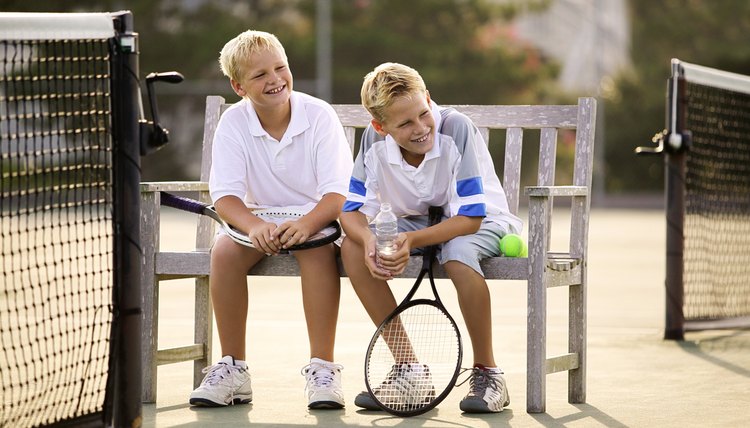 Buying a tennis racket for your child can be a little tricky because manufacturers make junior rackets in five different sizes. One that's too big or too small can hamper your child's learning experience. The best racket is not brand-specific, it's one that is proportionate in length to your child's height and has a grip that fits her smaller hand. The right racket will give your child the best chance of being successful while learning and makes it easier for her to develop her game. Knowing how to size up your child and select the best racket is simply a matter of taking a few measurements.
Measure your child's height. Have her stand tall with her back against a wall and hold a ruler across the top of her head, parallel to the floor, with one end against the wall. Place a mark on the wall with a pencil, where the ruler touches the wall. Take a tape measure and measure from the floor to this mark to get her height
Compare this measurement and your child's age to a racket-sizing guideline chart. If your child is 5 or younger and is 3 feet 11 inches or shorter, the best racket size is 19 or 21 inches. For a child age 6 to 8 with a height between 3 foot 11 inches and 4 foot 6 inches, a 23-inch racket is appropriate. If your child is between age 8 and 10 and is between 4 feet 2 inches and 4 feet 7 inches tall, select a 25-inch racket. A 26-inch racket is best for children between ages 10 and 12 and taller than 4 feet 8 inches.
Measure your child's hand, in inches, by taking a ruler and measuring from the middle crease in her palm to the tip of her ring finger. In most cases, you won't have a choice in size because most junior rackets are made with a grip size of 4 inches -- the circumference of the handle. Some manufacturers, however, make slightly smaller and larger grips if your child's hand measures more or less than 4 inches. It's better to find a racket with the correct size, if possible.
Take your child to a tennis pro shop or a teaching professional if you're not sure of the best racket size. They'll have the expertise to determine the best size, and if your child is an advanced player, a professional can easily evaluate her skill level. Advanced juniors who have played for a few years may be able to swing a longer racket than the guidelines recommend. This can be determined by the professional.
Tips
Racket-sizing guideline charts are available at most pro shops and from most major racket dealers. The chart recommendations should only be used as a general guideline, to give you a starting point in determining the best racket size for your child.
Warnings
Avoid having your child use an adult racket until he is physically able to swing the racket with control. Allowing your child to play with a racket that is too long with a grip size that is too big can lead to injury.