Difference Between Shimano 105 & Ultegra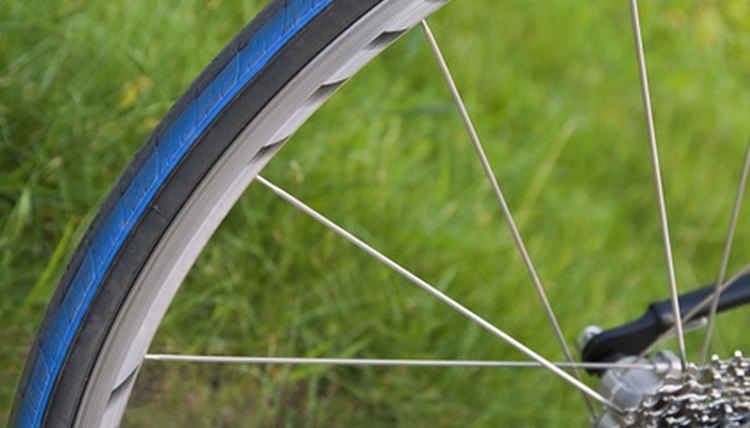 Shimano, Inc. is a Japanese company that specializes in bicycle components and accessories as well as fishing and rowing gear. Shimano components are standard on many well-known mountain, hybrid and road bike brands. Shimano 105 and Ultegra, along with the top-of-the-line Dura-Ace represent different tiers in Shimano's competitive-level road components. Cyclists consider 105's a high-quality training component set, or "gruppo," while Ultegra is better suited for racing.
Time Frame
As bicycle technology evolves, previous years' top-end innovations trickle down to the lower models. Shimano generally redesigns their elite technology every four years, passing on the new features to the lower lines over subsequent years. For example, Ultegra picked up Dura-Ace's 2009 redesigned brake levers and integrated shifters in 2010, and 105 inherited the design for 2011. Therefore, Shimano's current 105 line is better than the Ultegra of four years ago.
Differences
Ultegra components are lighter than 105 components, making climbing easier. According to Beginner Triathlete, Ultegra group sets weigh roughly 280g, or half a pound less than a 105 gruppo. Ultegra components are also stiffer, meaning that the bike doesn't "flex" under the load of hard pedaling, wasting energy. Also, according to Shimano's website Ultegra's wider crankset design permits frame manufacturers to build wider bottom brackets—the part between the pedals inside the frame—and thus stiffer frames. Finally, Ultegra offers a greater range of both high and low gears than 105, providing the rider with a climbing gear for steep grades, and a high gear for downhill speed.
Price
Both as a gruppo on a new bike and after market, Ultegra components cost about $500 more than a 105 group set. Since Ultegra parts are also machined with more precision, the parts fit together slightly better, slowing general wear. If maintained properly, Ultegra will last slightly longer than 105 parts.
Effects
A non-competitive rider is unlikely to need Ultegra's gearing extremes as she coasts down hills or notice the half-pound weight difference on hilly training rides. However, a half pound can translate into precious seconds when racing up a hill, when weight is magnified as the rider overcomes gravity. Also Ultegra's easier climbing gears spare his leg muscles for the final sprint.
Considerations
If you are deciding between a bike with a 105 or Ultegra group set, then spend the extra money for the Ultegra if you plan on doing any racing and if you can afford it. Ultegra increases your coolness factor in the pack, and increases the bike's resale value. If you are considering upgrading the 105 group set on a new bike to Ultegra, you are better off paying the extra money for a bike that comes with Ultegra standard. Although the price difference between the two component groups will be about the same as the price difference between the two bikes, you will pay a great deal more in labor costs to switch the shifters, derailleurs, cranksets, rear cassette and brakes.
References
Writer Bio
Claire Lunardoni has written for LIVESTRONG.COM and eHow since 2009. She is an American College of Sports Medicine-certified personal trainer and a fitness instructor who trains endurance athletes for IntEnd: Integrated Endurance in San Francisco. She holds a Bachelor of Arts in language studies from University of California in Santa Cruz.