A Shimano STX-RC Guide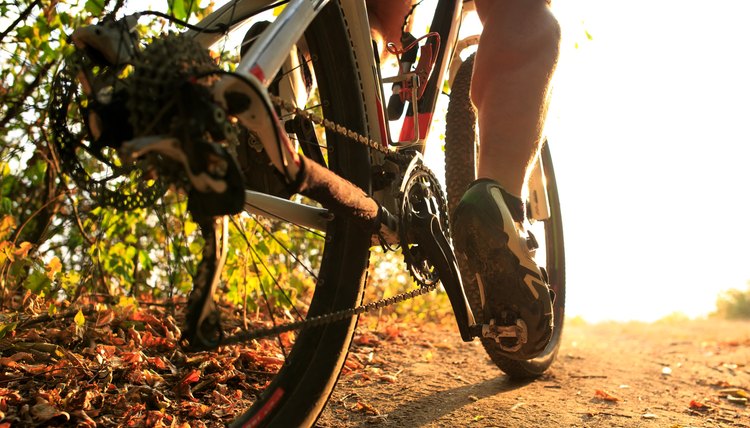 Shimano, founded in 1921, manufactures bicycle components that are sold around the world. Shimano STX-RC refers to a mountain bike group-set that was manufactured in the mid 1990s. The parts are no longer made, but individual STX-RC components can still be found through on-line auction sites and bicycle parts stores. Shimano has several different group-sets available.
STX-RC Group-Set Components
The STX-RC designation was used for a group of mountain bike components that are often sold together, rather than being the name of one particular component. STX-RC parts include derailleurs, shifters, hubs, brakes and brake levers. Other parts often included in group-sets are crank-sets, chain, sprockets and pedals. These are vital parts of a bicycle that are needed to perform important functions such as changing gears and braking.
Maintenance of STX-RC Components
STX-RC components are working bicycle parts that get plenty of use and need to be maintained and adjusted to keep them running well. Mountain bikes tend to get rougher treatment that other bicycles and all components have to withstand bouncing and jarring. Shifters can sometimes jam and need to have old lubricant removed with a solvent and new lubricant added. Derailleurs may need to be trimmed and should be cleaned and lubricated periodically to keep them operating smoothly.
Shimano STX-RC Reviews
There are plenty of mountain bike forums and communities that discuss STX-RC components, and most mention how long-lived and reliable the parts are. MTBR.com is a large on-line mountain bike website that publishes reviews of various components, such as STX-RC shifters, derailleurs and hubs -- which tend to be rated well. It has even been suggested that Shimano discontinued the line because it lasted so well that people didn't need to buy replacement parts.
Current Shimano Mountain Bike Group-Sets
Mountain bike group-sets currently made by Shimano are more technologically advanced than the STX-RC. XTR is the top-of-the-range group-set for cross-country and trail mountain bikes and includes shifters, braking systems, chains, crank set and cassettes. Deore XT is a high-level mountain bike group-set, SLX is a mid-level mountain bike group set and Deore is an entry-level group-set. Newer group-sets are designed to increase performance and minimize maintenance.