Location of Pitching Arm Soreness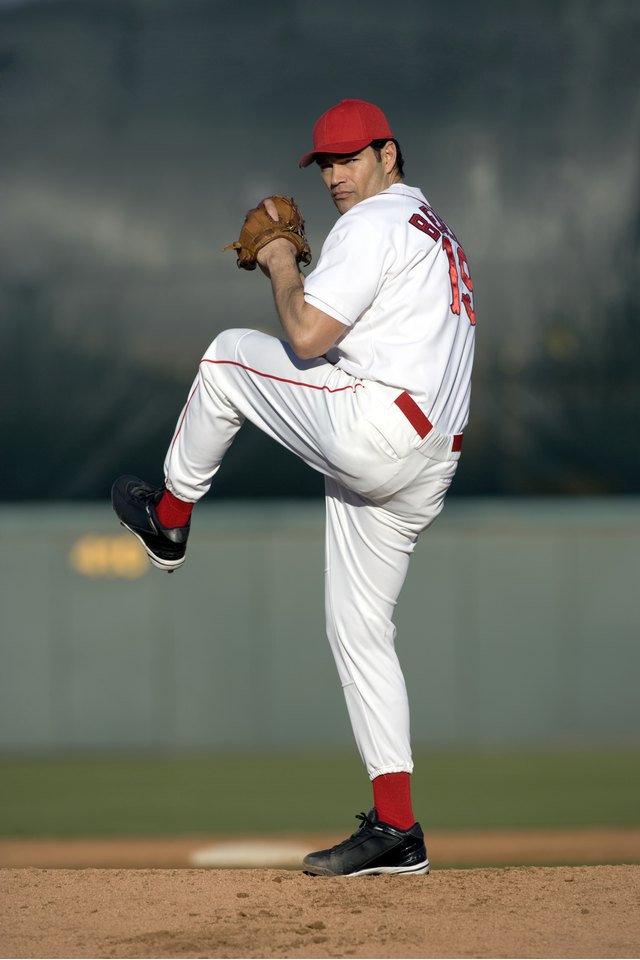 Being a baseball pitcher puts quite a lot of strain on the throwing arm. Arm soreness is a regular problem that may lead to more serious injury, especially with younger pitchers. Soreness in your pitching arm will affect performance and possibly your ability to pitch in the future. Most pitching soreness affects one of two different spots.
Elbow
The elbow is one of the main areas that gets sore on baseball pitchers. The torque that's placed on the elbow muscles and ligaments from throwing baseballs at different arm angles has the potential to cause serious problems. A condition known as "Little League elbow" affects younger pitchers and results when the ligaments are pulled away from the bone as part of the throwing motion. Adult pitchers sometimes damage the ulnar collateral ligament to the extent that it must be replaced surgically. The procedure is known as "Tommy John surgery" -- named after the Major League Baseball pitcher -- and it consists of replacing the elbow ligament with one from the forearm or hamstring so the pitcher can continue his pitching career.
Shoulder
The main area of the shoulder that gets sore from pitching is the rotator cuff tendon. If the tendon tears, surgery may be required to repair it. The labrum, which is a band of cartilage around the shoulder socket, can also suffer a tear from pitching and is another source of shoulder problems. Determining what the problem is often requires an MRI, and even then it may be hard to tell due to the structure of the shoulder. It's wise to rest and ice the shoulder when you first feel pain to give it a chance to heal and rule out anything serious.
Causes
The most common causes of arm soreness in a baseball pitcher include pitching too long in a particular outing, pitching too often, poor mechanics, poor conditioning and not practicing regularly enough. For younger kids, attempting to throw pitches like curveballs and sliders can cause elbow pain.
Considerations
If arm pain persists through several games, make an appointment with a sports doctor to be evaluated. You may need to be referred by your family doctor. Learn to use your entire body, especially your legs, in the pitching motion to reduce the stress on your arm. If you are a pitcher and you feel pain anywhere in your arm, communicate what you're feeling to your coach or trainer before it becomes a larger problem.
References
Writer Bio
Joshua McCarron has been writing both online and offline since 1995. He has been employed as a copywriter since 2005 and in that position has written numerous blogs, online articles, websites, sales letters and news releases. McCarron graduated from York University in Toronto with a bachelor's degree in English.