What does fact checked mean?
At SportsRec, we strive to deliver objective content that is accurate and up-to-date. Our team periodically reviews articles in order to ensure content quality. The sources cited below consist of evidence from peer-reviewed journals, prominent medical organizations, academic associations, and government data.
The information contained on this site is for informational purposes only, and should not be used as a substitute for the advice of a professional health care provider. Please check with the appropriate physician regarding health questions and concerns. Although we strive to deliver accurate and up-to-date information, no guarantee to that effect is made.
Shoulder Discomfort When Swinging a Baseball Bat Hard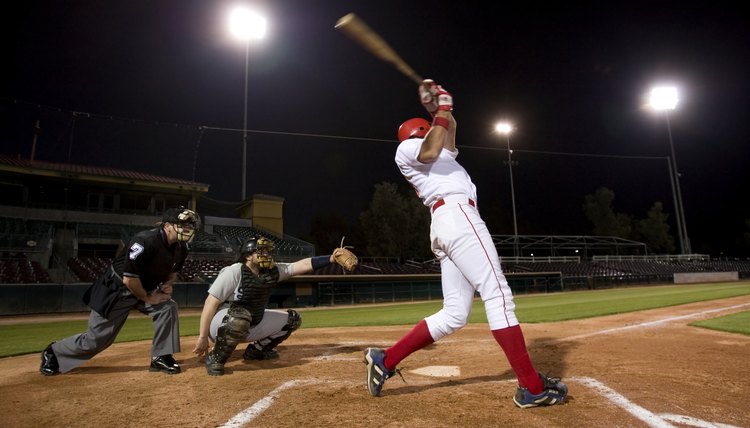 Shoulder instability can occur when the structures surrounding the ball-and-socket joint of the shoulder become lax or overstretched. Activities that require repetitive overhead motion or force during range-of-motion movement, such as pitching or swinging a bat, may make your shoulder joint susceptible to injury and predispose you to suffering a dislocation.
Instability, Subluxation and Dislocation
With shoulder instability, the supporting structures around the joint, including the tendons and ligaments, become loose or stretched, allowing the ball joint to move too loosely in its socket. If you feel like your shoulder may slip out of joint when swinging a baseball bat, you may simply have lax supporting structures. If your shoulder temporarily slips out of its socket, then slips back, you may have a subluxation. If the joint slips out of the socket entirely, you have a dislocation.
Symptoms
Shoulder instability may result in shoulder pain, arm or shoulder weakness, a feeling of looseness in your shoulder, abnormal movement of your shoulder or numbness in your arm. Dislocations are characterized by deformity, severe pain, and swelling or bruising. A feeling of your shoulder coming out of its socket before returning to its normal location may indicate subluxation and may predispose you to a future dislocation.
Risk Factors
Shoulder instability can be caused by repetitive injury, certain athletic activities, such as baseball and especially pitching, gymnastics, weightlifting and volleyball, as well as a congenital collagen disorder or other familial predisposition. Shoulder instability can occur after a dislocation and may be acute, developing immediately after an injury, or chronic, developing slowly over a long period of time. Some people develop instability with no previous risk factors. Improper technique while playing sports can contribute to instability.
Treatment
Chronic instability may be treated nonsurgically by modifying behavior that aggravates symptoms, using nonsteroidal anti-inflammatory drugs and strengthening the shoulder muscles. If you have dislocated your shoulder, your doctor may try to put the joint back in place using closed reduction, a noninvasive procedure involving gentle manipulation. In some cases, severely stretched or torn ligaments or a dislocation that resists reinsertion may need surgery to repair internal damage. You may need to immobilize your shoulder in a sling for several weeks before attempting rehabilitation.
Prognosis
Young athletes who experience a dislocation tend to develop chronic instability. Early treatment, including a period of rest and shoulder-strengthening exercises, can help prevent recurrences. If you did not incur major damage the nerves or tissues, you should regain the full use of your shoulder. The prognosis after a surgical intervention is usually good.
References
Lintner SA, Speer KP. Traumatic anterior glenohumeral instability: the role of arthroscopy. J Am Acad Orthop Surg October 1997;5:233-39.
Writer Bio
When not working in her family-owned food and bar business, Viola Horne can almost always be found with a cookbook in one hand and a whisk in the other. Horne never tires of entertaining family and friends with both comfort food and unusual delicacies such as garlic cheese smashed potatoes and banana bacon pancakes.