Differences Between Clip-in and Strap Snowboards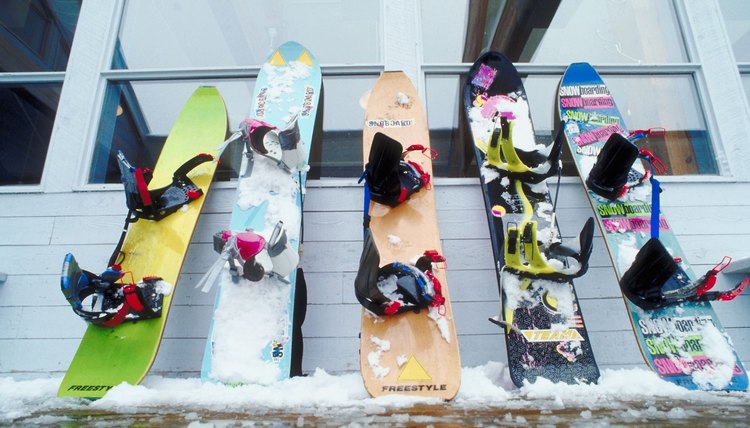 When you first begin snowboarding, you are confronted with a bewildering array of snowboard bindings and gear. Novices may have difficulty understanding the differences between clip-in bindings and strap bindings. However, choosing the right binding is important because the binding affects your performance, as well as the amount of time you spend gearing up on the slope.
Clip-In Bindings
Clip-in, or step-in, bindings allow you to simply step into the bindings on the snowboard, much as you step into bindings for snow skis. These bindings usually clip onto specially made boots at the toe and heel or on either side of the foot. Many skiers find the fit and ease with which the board can be clipped on convenient. The drawback of this binding is that you can't switch out snowboards easily, unless both boards are fitted for your feet and your boots.
Strap Bindings
Strap bindings are the most common type of binding for snowboards. These bindings have two straps on each foot that can be adjusted, allowing you to fit them to your boots each time. This allows you to change boots or even switch boards with a friend. Strap bindings take longer to put on than clip-in bindings, and if you do not strap your boots in securely, you may risk your boot sliding out of the binding, causing injury.
Selecting a Binding
Novice snowboarders may find clip-in bindings easier to use because you do not need to adjust them. The benefits of this binding include the ability to get on the snowboard quickly after you get off the ski lift, as well as the superior fit of having a binding that is specially sized for your feet and your boots. However, strap bindings allow the snowboarder more control over the board, making it the preferred type of binding for advanced or expert snowboarders, according to Bill Gutman and Shawn Frederick, authors of "Catching Air."
When to Consult an Expert
If you aren't sure which binding to choose, consult an expert at a sporting goods store or a snowboarding equipment store. Do your research and prepare to ask questions so the experts can help you determine which binding is right for you. The professionals at these stores can recommend a particular binding based on your preferences and skill level, as well as measure you for a step-in biding, if necessary. Try on the bindings once they are fitted to ensure that you are comfortable and that your feet are securely strapped in.
References
Writer Bio
Natalie Smith is a technical writing professor specializing in medical writing localization and food writing. Her work has been published in technical journals, on several prominent cooking and nutrition websites, as well as books and conference proceedings. Smith has won two international research awards for her scholarship in intercultural medical writing, and holds a PhD in technical communication and rhetoric.