Flex Vs. Stiff Snowboard Binding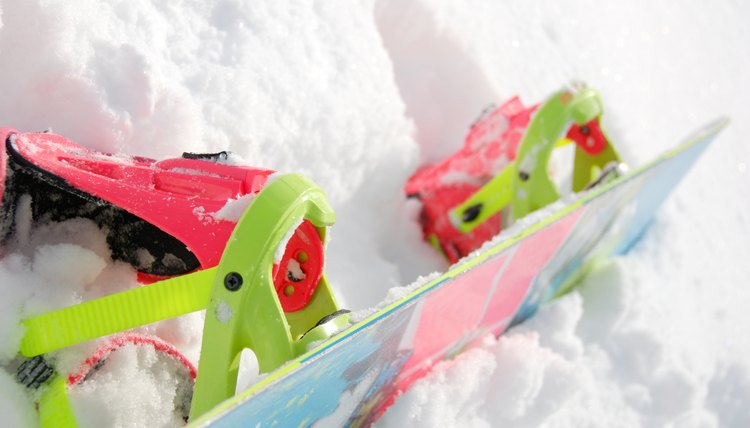 Snowboard bindings connect your snowboarding boots to your snowboard. Although bindings tend to come in two basic types -- flexible and stiff -- both types contain different plates and straps that help you maneuver your snowboard. New snowboarders often prefer flexible bindings while the more experienced may seek the precision stiff bindings offer.
Components
Both flexible and stiff bindings contain three separate components: highback, baseplate and straps. According to REI.com, the highback is a contoured plate that rests vertically against your Achilles tendon. The highback gives you the ability to control the rear edge of your board, and taller highbacks typically offer more advanced control. The baseplate is the platform that runs along the bottom of your bindings and is typically attached the board with a series of bolts or disks. Straps are used to secure your boots tightly in place as you snowboard.
Flexible Bindings
Recreational and intermediate bindings are the most flexible type of snowboard binding. These provide for a more flexible and dynamic connection between your feet and the board. Since flexible bindings tend to absorb more shock, they are often the binding of choice for beginning snowboarders. In addition to their more forgiving design, flexible bindings offer a greater range of movement -- making them ideal for freestyle snowboarders riding in halfpipe or terrain parks.
Stiff Bindings
Advanced bindings are a type of stiff snowboard binding that involves taller highbacks and additional straps. These stiffer models offer additional precision control, helping snowboarders to make quick, technical maneuvers during descents. Due to their additional density, stiff bindings tend weigh a little more than flexible bindings and are sometimes more expensive.
Comparison
The most obvious comparison between stiff and flexible bindings is the amount of freedom or control they provide. If you are a freestyle or beginning snowboarder, you may opt for flexible bindings due to their additional safety features. However, advanced and technical snowboarders might prefer the additional precision functions of stiff bindings. Aside from these elements, you should also take into account whether or not the bindings can properly adjust to your boot and board size. Since snowboards also come in stiff and flexible designs, you should match your bindings to the flexion of your snowboard.
References
Writer Bio
Based in the Appalachian Mountains, Brian Connolly is a certified nutritionist and has been writing professionally since 2000. He is a licensed yoga and martial arts instructor whose work regularly appears in "Metabolism," "Verve" and publications throughout the East Coast. Connolly holds advanced degrees from the University of North Carolina, Asheville and the University of Virginia.