The Best Walking Shoes for Bunions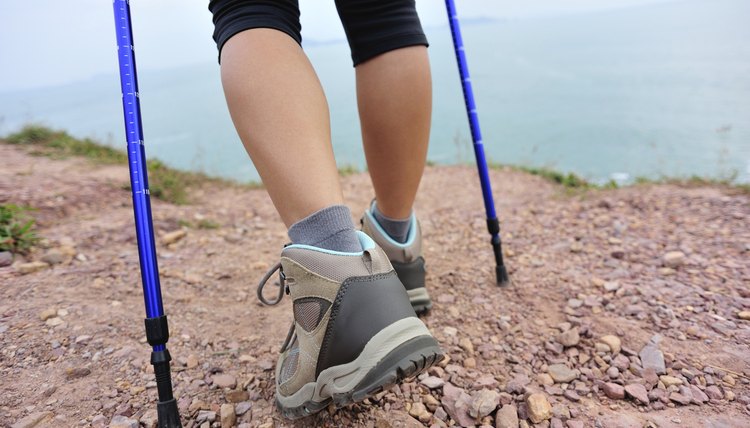 What to Look For
To prevent foot bunions, choose walking shoes that fit properly with a wide toe box, cushioned insole and wide instep. Look for breathable material to keep your feet comfortable on long walks. A flexible sole and ample arch support help to prevent foot injury and discomfort. If you walk on trails, look for a durable sole to withstand the varying terrain.
Common Pitfalls
According to the American Orthopaedic Foot and Ankle Society, more than 30 percent of American women wear shoes that are too tight, which is the most common cause of bunions. When selecting a walking shoe, ensure that it is roomy enough. REI suggests placing a finger behind the heel of your foot to make sure there is enough space for your feet to expand while you walk. Remember to try on your shoes with the socks you plan to wear while walking.
Where to Buy
The best place to purchase walking shoes is a specialty store such as The Walking Company. A salesclerk can measure both of your feet and provide you with the proper sizing guidance. The company operates retail stores nationwide, or you can order from The Walking Company's online catalog.
Cost
Walking shoes range in price from $50 to $350, as of September 2010. Most walkers will be able to locate a pair of comfortable shoes at the low and mid-range price point. High-end walking shoes are often handcrafted or feature advanced cushioning technology. The brand name and shoe style will also affect the price. Look for end-of-season sales and previous-year styles for a discounted walking shoe.
References
Writer Bio
Gina Rodrigues began writing professionally in 2010. She contributes to LIVESTRONG.COM Lifestyle, eHow and Answerbag. Her specialties include personal finance, outdoor activities, technology and pets. Rodrigues holds a Bachelor of Arts in English from California State University, East Bay.