What Is the Best Shaft for a 90 MPH Swing Speed?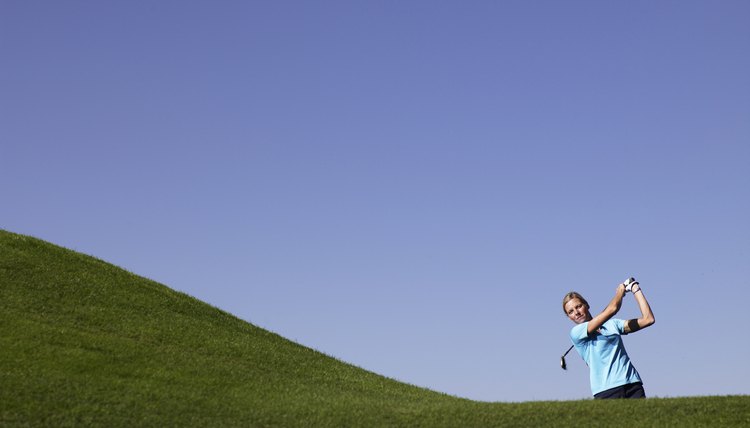 With a swing speed of 90 miles per hour, golfers will typically fall in the moderate category of swing speeds. These players swing fast enough to generate torque and spin on approach shots but do not swing hard enough for extra stiff offerings. Golfers that have moderate swing speeds in the range of 90 miles per hour will find a variety of shaft offerings currently on the market.
Steel or Graphite
All golf shafts are made from steel and graphite. A golfer's swing type, launch conditions, preferred ball flight and trajectory, and personal preferences have a lot to do with their shaft choice. Golfers with a swing speed of 90 miles per hour looking for added stability and a lower trajectory will play a heavier steel shaft. If a golfer wants to launch the ball higher and feel added whip in the shaft, graphite usually is the best option.
Flex for Drivers and Irons
Ninety miles per hour generally is a good benchmark for swing speed, but can make a difference in selection depending on if that number was determined by swinging a driver or iron. Ninety miles per hour with irons is in the upper range of swing speed. These golfers will usually choose between a flex of stiff and extra-stiff. Ninety miles per hour with the driver is a bit on the slow side, and those golfers will choose a regular flex shaft for added bend. This helps create extra lag for distance.
Standard Option
Golfers look for tour-proven quality and equipment that fits their needs when determining a shaft choice. The True Temper Rifle shafts are considered standard options in many quality iron sets. These are used on many professional tours and on amateur sets made by Original Equipment Manufactures. For golfers with a swing speed of 90 miles per hour, these shafts provide enough stability to square the clubhead at impact and release it through for control and workability. The flex options in this shaft are measured by the shaft's measured cycles per minute.
Premium Options
Project X and Fujikura manufacture premium driver shafts that can benefit golfers with moderate swing speeds. These shafts are also played on the professional tours and just recently have these manufactures moved into shafts for irons along with custom fittings. Fujikura is known throughout golf circles for its Speeder driver shafts. The company claims maximum feel throughout the swing increases consistency. Project X has very popular iron shafts, that, in a regular flex, will benefit a golfer with a swing speed of 90 miles per hour thanks to added stability and control.
Writer Bio
Lyle Stefanavich started writing professionally in 2005. His work has appeared in the "Olivet College Echo," "Battle Creek Enquirer," "The South End Newspaper," TellUsDetroit.com, "Warrior Within Magazine," "Dearborn Press and Guide," Dethoops.com, CSTV.com, and UCSHO.com, among other publications. Lyle holds a Bachelor of Science in finance from Wayne State University and is pursuing his Master of Business Administration.