What Is the Official Size of the NFL Football?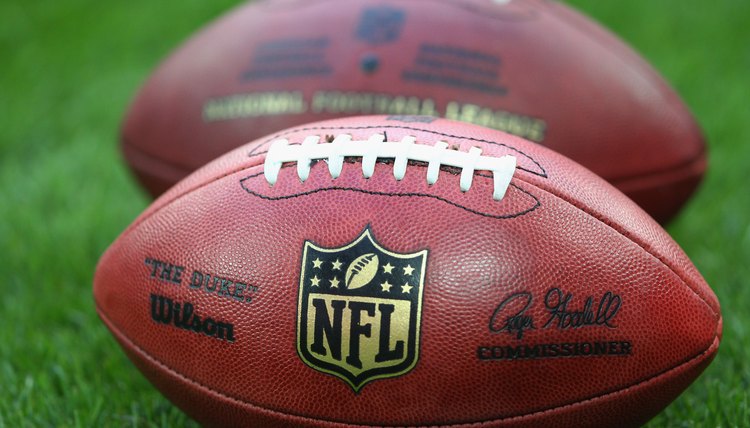 The National Football League – the NFL – is a league composed of the best football players in the world. Similar to other levels of football, the NFL uses an egg-shaped football, but the NFL has specific rules to the size, shape and materials used for the football. The Digest of Rules of the NFL explains the official size requirements for the football, along with other basic rules for playing the game.
Measurements
The NFL has set measurement rules for the overall length and largest circumference at the center of the football. An official NFL football is slightly larger than high school or other professional leagues. The length should measure about 11 inches from tip to tip, and the in circumference at the center of the football should measure about 22 inches.
Weight
Overall weight and air pressure are specific in the NFL, too. The football and materials weighs about 14 to 15 oz., and is the ball is inflated to about 12.5 to 13.5 lbs. per square inch. These weight and air pressure measurements create consistency among the many footballs required in a game.
Materials
The NFL rules also govern the dimension of materials, the number of layers and the pattern of design. Four leather panels are weighed, measured and inspected for blemishes before being sewn together. The top two panels are sewn together with white leather laces. Inside the leather panels is a 3-ply VPU rubber bladder or interior lining that holds the air.
Inspection
Before every NFL football game, the home club supplies 36 footballs for outdoor contests and 24 footballs for indoor ones. An additional 12 footballs are marked with the letter "K," and are used specifically for kicking. The referee inspects every football two hours before the game to ensure it meets the official size, weight and air pressure requirements.
References
Writer Bio
Based in Nebraska, Jeremy Hoefs began writing fitness, nutrition, outdoor and hunting articles in 2006. His articles have been published in "Star City Sports," "Hunting Fitness Magazine" and RutWear field journals, as well as on the Western Whitetail website. Hoefs graduated with a Bachelor of Science in exercise science from Nebraska Wesleyan University.