What to Expect at Your First Personal Training Session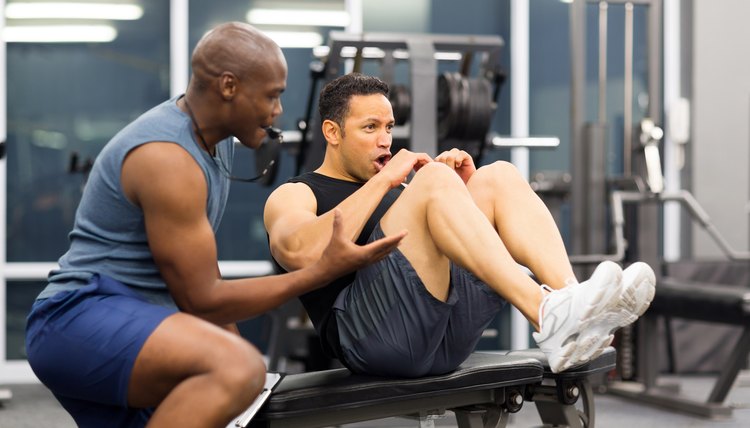 You've taken the step to hire a personal trainer to help you get in shape or to take your fitness to the next level. You're excited, but a little nervous because you're not quite sure what to expect.
Don't sweat it. If you're new to working out, expect your first session to be mostly evaluation with a little demonstration and a light workout. If you've been working out a while, your trainer might throw some new moves your way, but nothing you can't handle.
Getting to Know You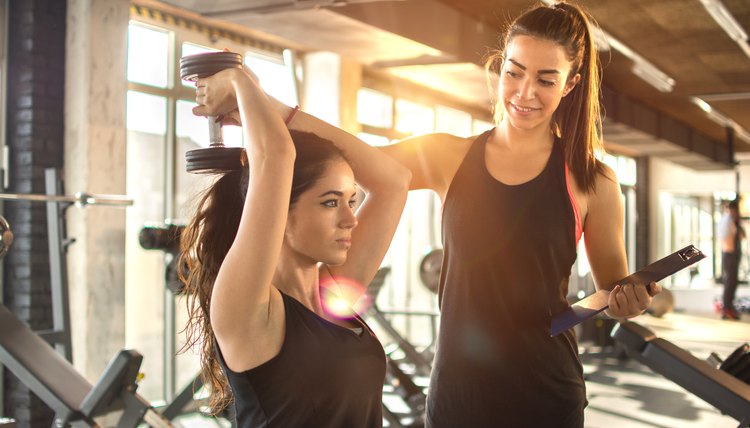 SportsRec
Everyone has their reasons for hiring a personal trainer. It's a good idea to have your goals in mind when you show up for your first session. Do you want to lose weight? Get stronger? Are you looking to get better in a specific sport? Your trainer will need to know your goals to develop a training program for you.
Your trainer will also ask about the past. Have you exercised before? What have you tried, what worked or didn't work? Have you had any injuries or illnesses?
She'll also want to know about the present — do you have any current injuries or illnesses? What's your diet, sleep and stress level like? Do you take any supplements? How much time do you have to devote to fitness?
Every trainer is different and will ask different questions, but these are some good examples of what you can expect to be asked at your first session.
Read more: 7 Benefits of Hiring a Personal Trainer
Forms to Fill Out
Depending on the gym and the trainer, there may be be some forms to fill out. They could include one or more of the following:
Waiver of liability: Merely a precaution, this form protects the trainer and the gym in case of injury or accident. It's the same thing you'd fill out if you went to a yoga or fitness class at a studio for the first time.
Informed consent: This form sets out what you can expect in your fitness assessment and asks that you agree to the terms.
PAR-Q: In addition to the questions your trainer asks, he may also have you fill out a Physical Activity Readiness Questionnaire, or PAR-Q. This is a quick way for him to identify any reasons why you might not be not be physically able to begin a new exercise regimen. If it uncovers something prohibitive, your trainer will talk with you about next steps to take.
Medical history: You may be asked to fill out a more detailed health history questionnaire. This can help your trainer make sure that he has all the information he needs to plan workouts for you that are safe and appropriate.
Client agreement/contract: Many trainers offer your first session at no charge. At the end of the session, she may discuss options for working together on a regular basis. If you decide to purchase a package, you may have to sign some sort of agreement or contract.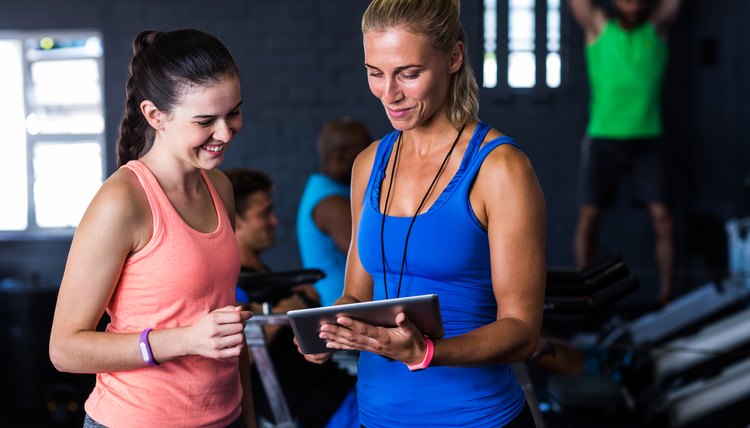 SportsRec
Fitness Assessment
Some trainers perform a detailed fitness assessment at the first appointment, while others may perform a scaled down version and save some tests for later on in your program. Others may save the fitness assessment for the second session. Depending on the gym/trainer, a fitness assessment includes some or all of the following:
Postural assessment: Your trainer will assess you as you stand in a relaxed posture and as you walk, looking for any clues of muskuloskeletal issues, such as muscle imbalances or spinal curvature.
Movement analysis: Your trainer will have you perform a series of movements to assess your joint alignment, range of motion, over- or underactive muscles and other factors that affect proper movement.
Flexibility: A series of tests to assess the flexibility of your different muscle groups.
Body composition: A test to assess your current ratio of fat-to-lean muscle mass used as a baseline to track progress.
Measurements: Your trainer may take a series of measurements — neck, waist, thigh, bicep — to use as a baseline to measure progress based on your goals.
Blood pressure: Just like in a doctor's office, your trainer may use a cuff and stethoscope to measure your blood pressure.
Cardio testing: A number of different tests may be used to assess your aerobic fitness. The Rockport test and the YMCA test are common examples. In the Rockport test, your trainer will have you walk on a treadmill as fast as you can for one minute, then measure your heart rate. The YMCA test involves stepping in cadence on a 12-inch step for 3 minutes, at the end of which the trainer will assess your heart rate.
Finally — a Workout
It's not all forms and tests! You came to exercise, so your trainer will typically fit in a brief workout. This is a chance for her to get an idea of your ability and for you to get a taste of her training style.
If you're new to fitness, your trainer will introduce you to some machines and other equipment, perhaps demonstrate some exercises, and then ask you to try a few. Your first workout should be easy and low pressure.
If you've you've been working out on your own, your trainer may lead you through a more challenging workout, show you some new equipment and more advanced techniques.
It's up to You
Make your first session with your trainer work for you. If there is any question you don't want to answer or any test or exercise you don't want to do, let your trainer know that. Realize that your trainer has expertise and experience, but doesn't always know what's best for you.
Prepare to learn a lot from your trainer, but also be ready to guide him or her in your wants and needs and likes and dislikes. After all, it's your time, your money and your body.
Read more: Personal Trainer Etiquette
References
Resources
Writer Bio
Jody Braverman is a professional writer and editor based in Atlanta. She studied creative writing at the American University of Paris and received a Bachelor of Arts in English from the University of Maryland. She also received personal trainer certification from NASM and her 200-hour yoga teacher certification from YogaWorks.