Upper-Body Workout Machine Routine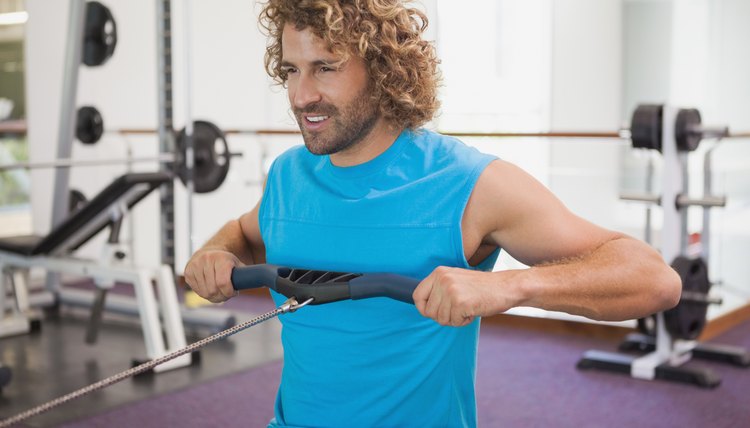 Weight machines are generally targeted more toward beginners, or those recovering from injuries, but they can be useful for anyone. Machines allow you to concentrate more on individual muscle groups by removing the total-body stability aspect of free weights; plus, it's quicker to transition between weight machines and change the load of an exercise with one movement of a pin. When training your upper body with machines, ensure your routine is balanced and progressive.
The Perfect Plan
Working your upper-body muscles in proportion is vital. It can be easy to focus on the "mirror" muscles such as the pecs and biceps, but keep in mind that you do have other muscle groups, too. Include two chest exercises, one shoulder move, two back exercises and one exercise each for biceps and triceps. A typical routine could include machine chest presses, the pec fly machine, seated shoulder presses, lat pulldowns, machine chest-supported rows, preacher curls and triceps extensions.
Cable Considerations
Consider adding cable machine exercises into your workout. The benefit of the cable machine is that you can change the direction and height of the force; they also maintain tension on the muscle throughout the entire exercise. They're also versatile, writes trainer James Stoppani in the "Encyclopaedia of Muscle and Strength." Swap two or three regular machine exercises for cable exercises. You could get rid of pec flyes, machine rows and machine triceps extensions, for instance, and replace them with cable crossovers, seated one-arm cable rows and overhead cable extensions using a rope attachment.
Strength Versus Endurance
Aim for a variety of repetition ranges in your workout. Traditionally, heavy weights and lower reps are considered best for strength gains, while lighter loads for higher rep sets are judged best for endurance. While this is true, mixing up your rep ranges keeps your training fresh and challenging. Perform your first chest, shoulder and back exercise for five sets of six to eight reps each, then your second exercise for chest and back, plus your two arm moves, for three sets of 15. Do this for four weeks, aiming to add weight or reps each session, then reverse the order in weeks five to eight by going higher rep on your first lot of exercises and lower rep on your second.
The Machine Routine
Machines can be highly effective, but you need to pick the right ones, warms strength coach Charles Poliquin. Watch out for biceps curls and triceps extensions that don't have adjustable seats; lateral raise and pec dec machines where you can't position the handles to suit your biomechanics; and be careful not to round your back when grabbing the handle for seated machine rows. If you hit a plateau in training and can't move up to the next level on a machine, consider switching to a similar machine for a few weeks, or attach a smaller 2.5- or 5-pound plate to the weight stack using the adjustable pin.
References
Writer Bio
Mike Samuels started writing for his own fitness website and local publications in 2008. He graduated from Peter Symonds College in the UK with A Levels in law, business and sports science, and is a fully qualified personal trainer, sports massage therapist and corrective exercise specialist with accreditations from Premier Global International.