Benefits of an Athletic Trainer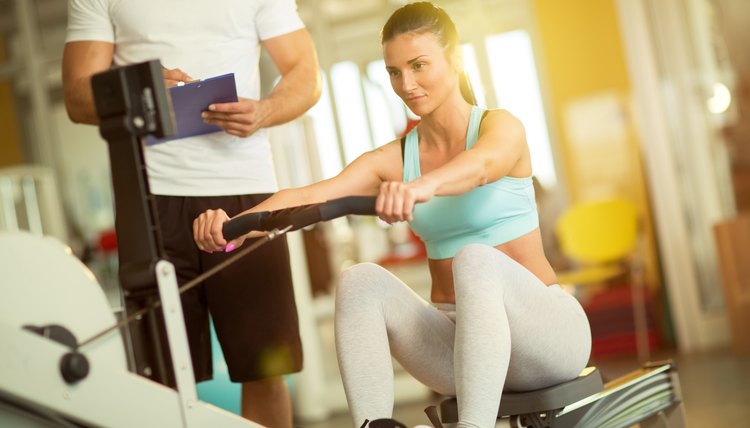 Athletic trainers are health care professionals who assist injured athletes under the supervision of a licensed physician. Though athletic trainers are most associated with school athletic departments, gyms, sports clubs and professional sports organizations, their skills are helpful in other industries. Athletic trainers must have good communication and social skills.
Injury Prevention
One of the benefits of athletic trainers is that they provide valuable information on injury prevention. Athletic trainers educate athletes on how to avoid putting themselves at a risk for certain injuries by using the appropriate safety gear and doing certain techniques while training and competing. Athletic trainers also educate athletes about the benefits of using ice to sooth inflammation and swelling and how to physically condition themselves to prevent injuries.
Serves Other Industries
Athletic trainers are typically employed in sports settings, but they are also hired to serve injured persons in other settings. For example, athletic trainers can be found working in clinics, hospitals, military facilities and public safety settings. Athletic trainers that work in these types of settings can improve productivity, increase patient outcomes and satisfaction, provide instruction on exercise prescriptions, perform patient evaluations, help keep athletes in peak condition to reduce the frequency and severity of injuries during performances, assist military recruits who have become injured during basic military training and act as a liaison between public safety academy supervisors and employees concerning injury and illness issues.
Physical Fitness Advice
Offering physical fitness advice to athletes and coaches is another benefit of an athletic trainer. They can teach athletes how to use the right form to perform certain exercises, instruct athletes and coaches about the benefits of good nutrition to maximize physical health and promote positive team workout results. Athletic trainers may also give athletes advice on how fall on the ground correctly to prevent certain injuries while playing sports.
Support Services
When athletes have an injury, they may turn to athletic trainers for not only physical treatment but also psychological encouragement, which may help an athlete recover from an injury faster. Also, athletic trainers are trained to deliver emergency care, prescribe short-term treatments by using CPR and first aid, stabilize sprains with athletic tape and splint fractures. Athletic trainers may also develop rehabilitation programs, which employers may view as an asset because their knowledge, skill and care can save an employer thousands of dollars in outside health care costs annually.
References
Writer Bio
Heather M. J. Emerson is a graduate of the University of South Carolina. She has a Bachelor of Arts degree in Communications, with a Cognate in Psychology. She is the owner and holistic lifestyle & energy wellness coach at Awakenings WHOLEistic Services.