8-Ball Pool Games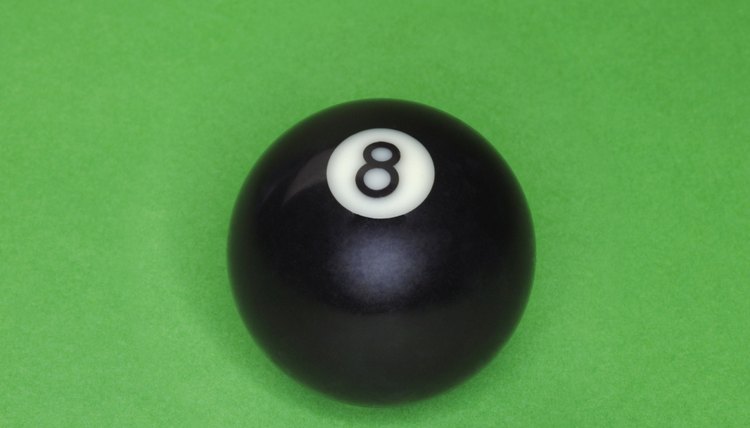 Eight-Ball is one of the most commonly known billiard games, but if you do not own a pool table or live near a pool hall, then your options are limited on playing the game in person. Luckily, there are plenty of variations and options for you to play including video games, mini versions of the game and even a pinball adaptation of 8-Ball.
Wii Play
Recreate real pool stick actions with the remote in "Wii Play." Billiards is just one of many options available in the game, but it features classic 8-Ball and realistic controls. Players use their own Mii character to shoot around the table and hit bank shots, multi-balls and powerful breaks. The graphics are average, but the game play is one of the best that the Wii has to offer.
Tabletop Pool
Turn your dinner table into a makeshift pool hall with tabletop pool. Available in different sizes, tabletop pool is basically a mini version of 8-Ball. The pool cues are a little thicker and longer than an average pencil and the balls are a little bigger than marbles. Most of the toy tables use real felt and add in small decals to truly replicate a real table experience.
Online Pool
Boredom online can turn into hours of fun at Yahoo! Pool. The website is constantly hosting dozens of different pool rooms ranging from multiple difficulties and tournaments. Websites like Eliters.com and Myleagues.com host tournaments for cash if you get really good and onscreen guides help you get accurate shots.
Pool Paradise
PlayStation 2 owners can enter a virtual world of 8-Ball pool in "Paradise Pool." Players start from the bottom in the long career mode where they build up to open new pool halls and multiple accessories like cues, balls and tables. The game makes playing pool as realistic as possible with true to life sound effects, physics and table details.
Eight Ball Deluxe
This retro pinball machine mixes both popular formats. An actual cue ball sits in the middle of the machine and as the ball is sent around obstacles, players try to bank shots against the cue ball to win a game of 8-Ball. Still found in some arcades, this game may be the most challenging version of 8-Ball pool because it can take hours to defeat.
References
Writer Bio
Alan Donahue started writing professionally in 2003. He has been published in the Norwich Free Academy "Red & White," UNLV's "Rebel Yell" and on various websites. He is an expert on wrestling, movies and television. He placed second in the NFO Screenwriting Contest and received filmmaking awards from Manchester Community College and Norwich Free Academy. He currently attends Academy of Art University.