How to Become a McDonald's All-American Basketball Player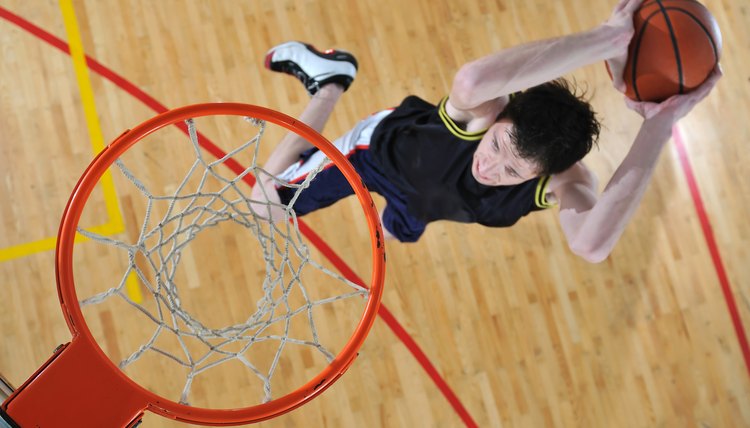 Each year the McDonald's All-American doubleheader showcases 48 of the top boys and girls high school senior players in the U.S. and Canada. Separate boys and girls selection committees sort through hundreds of qualified nominees to select 24 players for each of game. To become a McDonald's All-American, you must impress the high school analysts, prep scouts, newspaper reporters and basketball coaches on each of the selection committees.
Raising Your Profile
Almost every McDonald's All-American is well known to basketball experts before they enter their senior season and become eligible for this honor. Most of them star on the summer basketball circuit and work their way to one of the Nike Elite Youth Basketball teams. The very best players compete against each other, giving college coaches and independent talent experts an opportunity to evaluate them before their senior season.
Gain a Nomination
High school coaches, athletic directors and principals can nominate players for this honor each September, as can members of the McDonald's All-American Selection Committees. This is just a formality for the top players, but it starts the selection process.
Meeting the Criteria
Only high school seniors with good academic standing and eight semesters of participation are eligible for this honor. The selection committees follow National High School Federation guidelines, so nominees have four consecutive years to complete their high school eligibility once they enter ninth grade. Fifth-year players are not eligible to participate in the McDonald's All-American games.
Earning Your Vote
If you meet the McDonald's All-American games criteria and you are a consensus Top 20 player in the top national rankings, you are likely to get one of the spots. But there is no guaranteed path to the games. You must play very well, help your high school team win, build on the reputation you earned over the summer and hope to get the votes.
Team Selection
Each selection committee member votes for 24 boys or 24 girls. The top vote-getters will play in the game. The players are divided up by position and, when possible, by relative geography. Given the objective to form two similar rosters, there may be East and West teams in name only.
References
Writer Bio
Jeff Gordon has been reporting and writing since 1977. His most recent work has appeared on websites such as eHow, GolfLink, Ask Men, Open Sports, Fox Sports and MSN. He has previously written for publications such as "The Sporting News" and "The Hockey News." He graduated from the University of Missouri-Columbia School of Journalism in 1979 with a bachelor's degree.